It appears that Donald Trump has won what I have been calling the November Democratic primary, and will take the office of President of the United States this coming January.
Will this make much difference? I am very guardedly optimistic. Trump remains at heart a moderate Democrat with mixed leanings. His experience during this campaign however has also clearly pushed him rightward, as he suddenly found himself the target of liberal hate. Moreover, the people he has been listing as possible cabinet and administration appointees during his term in office suggest a slightly right-of-center rule.
At the same time, the entrenched and corrupt culture that rules Washington and intellectual society will not accept a Trump administration meekly. They will fight any effort by him or his supporters to change that culture, or to wrest any power from it. This will be the ultimate test of Trump's beliefs. If he truly has shifted rightward, he will fight back, and "drain the swamp" as he promised during the campaign. If however he allows his past moderate Democrat roots to take over he will back off and do what the Republican leadership has been doing for the past two decades: retreat in the face of the slightest opposition.
What makes me most hopeful that Trump will actually "drain the swamp" is that he will enter office with a solid Republican congress, made up of more true conservatives then we have ever seen. This more than anything will help keep him from wavering from his promises.
One other thought for the moment: The closeness of this election is still disturbing. Trump was not a great candidate, but Clinton was a truly corrupt one. That so many Americans were willing to look the other way even after almost three decades of documented dishonesty and lying and still give her their votes does not speak well of them. Until that basic fact changes, the American system of government remains very fragile and exposed to destruction from within.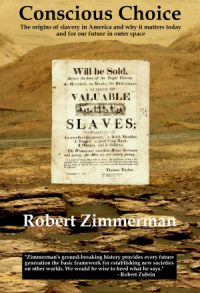 Now available in hardback and paperback as well as ebook!
From the press release: In this ground-breaking new history of early America, historian Robert Zimmerman not only exposes the lie behind The New York Times 1619 Project that falsely claims slavery is central to the history of the United States, he also provides profound lessons about the nature of human societies, lessons important for Americans today as well as for all future settlers on Mars and elsewhere in space.
Conscious Choice: The origins of slavery in America and why it matters today and for our future in outer space
, is a riveting page-turning story that documents how slavery slowly became pervasive in the southern British colonies of North America, colonies founded by a people and culture that not only did not allow slavery but in every way were hostile to the practice.
Conscious Choice
does more however. In telling the tragic history of the Virginia colony and the rise of slavery there, Zimmerman lays out the proper path for creating healthy societies in places like the Moon and Mars.
"Zimmerman's ground-breaking history provides every future generation the basic framework for establishing new societies on other worlds. We would be wise to heed what he says." —Robert Zubrin, founder of founder of the Mars Society.
All editions are available at Amazon, Barnes & Noble, and all book vendors, with the ebook priced at $5.99 before discount. The ebook can also be purchased direct from my ebook publisher, ebookit, in which case you don't support the big tech companies and I get a bigger cut much sooner.
Autographed printed copies are also available at discount directly from me (hardback $24.95; paperback $14.95; Shipping cost for either: $5.00). Just email me at zimmerman @ nasw dot org.