Samsung has just released a new report, dubbed Samsung KX50: The Future in Focus, where the company asked "Six of Britain's leading academics and futurists" to give their prediction of what the world will be like fifty years hence.
According to the report [pdf], people will be living mostly in very dense urban environments consisting of giant, self-sufficient skyscrapers that grow their own food, huge underground complexes, and even undersea colonies. Travel will be by self-driving pods that can double as hotel rooms on long trips, with travel possible between places like Britain and Scandinavia by aquatic highways. Alongside these will be autonomous air taxis that use rivers as commuter routes, hyperloops, and hypersonic airliners.

Not that there will be much traveling. For environmental reasons, most food will be grown close to home, if not in the home itself. Manufacturing will be equally local thanks to 3D printing. And, thanks to automation and artificial intelligence, most people will work in their self-cleaning homes with most of their professional and personal interactions with others conducted through means of full-feedback holographs.

That means that most people will live very sedentary lives, but they'll also be monitored by biosensors throughout the day as virtual digital companions assess their health, help doctors to prescribe treatments to keep them at peak fitness, dispense health advice, and even custom tailor diets and medicines. [emphasis mine]
The last paragraph immediately stood out to me. These academics saw no moral or ethical problem with such monitoring and supervision. Nor it appears were they aware of the political ramifications of such technology.
Similarly, the report also envisioned "TV and movies beamed directly to your brain via optoelectronic devices" and "Living forever with our memories uploaded to the Cloud." And from introduction in the report [pdf] itself:
One of the first things that struck me, reading their submissions, was how much consensus there seems to be between all our futurologists, on matters such as direct brain-to-internet connection being a very real possibility before 2069.
The essays in the report itself confirmed this impression. The predictions of all these academics are all focused on imposing their hot-button leftist agenda, including preventing global warming, allowing gender fluidity, pushing environmental activism, and eliminating of meat as food (to name a few), and doing so by the use of technology that is implanted directly into each human being. The world they envision will have every human a pawn in their interconnected robotic-controlled society, with brain implants eliminating our ability to think independently because we are now part of a kind of hive mind.
Samsung then asked British citizens to rank these predictions by what they would most like to see come true. Self-cleaning robotic homes was by far the most popular prediction at 63%, with "Body implants that monitor our health and translate any language" coming in second at 44%.
This poll however was rigged, as it did not ask anyone if they opposed some predictions. I wonder what response Samsung would have gotten had they asked that question.
Nonetheless, the number of people enthused by the idea of monitoring by body implants make me fear for the future. Today young people are addicted to their smart phones and that hive mind. They see nothing wrong with Google monitoring their lives and even acting to control them. I fear that when more convenient but invasive monitoring and control become technologically possible, future generations will be quick to accept it, while they simultaneously lose their individuality and ability to create uniquely.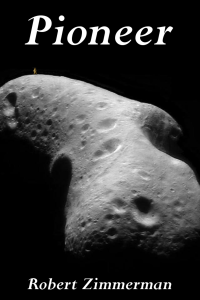 From the press release: From the moment he is handed a possibility of making the first alien contact, Saunders Maxwell decides he will do it, even if doing so takes him through hell and back.
Unfortunately, that is exactly where that journey takes him. The vision that Zimmerman paints of vibrant human colonies on the Moon, Mars, the asteroids, and beyond, indomitably fighting the harsh lifeless environment of space to build new societies, captures perfectly the emerging space race we see today. He also captures in Pioneer the heart of the human spirit, willing to push forward no matter the odds, no matter the cost. It is that spirit that will make the exploration of the heavens possible, forever, into the never-ending future. Available everywhere for $3.99 (before discount) at
amazon
,
Barnes & Noble
, all ebook vendors, or direct from the ebook publisher,
ebookit
. And if you buy it from
ebookit
you don't support the big tech companies and I get a bigger cut much sooner.