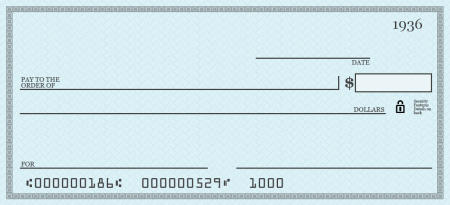 It doesn't matter how much money is in the government treasury,
our government will fill this check out anyway, to the max.
This week the Democrat-controlled legislature of the state of California passed a bill allocating $150 million dollars from which cash-strapped hospitals could obtain loans to help pay their bills.
The state will give out the $150 million in the form of interest-free loans to nonprofit or public hospitals that meet certain conditions. The state will prioritize loans for medical centers in rural areas and those that have a disproportionate number of patients on Medicaid, the joint state and federal government health insurance program for the poor and the disabled.
Loans will have to be repaid in six years, though it will be possible for the loan to be forgiven if the hospital meets certain requirements.
In another news report describing the process in which this bill was approved and passed included one particular quote that illustrated magnificently the modern manner in which almost all American legislatures now function, from small city councils to Congress in Washington, regardless of party. As stated by one state senator during preliminary hearings before the bill passed:
"We don't know how many hospitals, we don't know which hospitals. We don't know which areas those hospitals are (in), we don't know anything. And now we're asked to approve $150 million to be doled out without access to plans, without access to the finances that would give us the evidence to feel comfortable with this," said Sen. Maria Elena Durazo, a Los Angeles Democrat, during a Senate budget committee hearing on Tuesday. [emphasis mine]

"We don't know anything." The problem was that, prior to the bill's passing, no one could tell legislators how many hospitals were in trouble nor how much cash would actually be needed. And yet, without any of these questions answered the state legislature still passed the bill two days later, where it only awaits the signature of Democratic Party governor Gavin Newsom.
Making the situation even more farcical was the fact that the only data about this so-called crisis was provided by the California Hospital Association, a trade lobbying organization working for the state's hospitals. You think maybe this organization might have some conflict of interest, and might be exaggerating the crisis in order to get its member hospitals some free government cash? I do, and in fact, the bill that passed was woefully inadequate, according to this lobbying group.
With eyes on the upcoming fiscal year, the California Hospital Association has asked the state for $1.5 billion in one-time relief, a tough request in a deficit year. … A spokesperson…said the loan program is welcome news and promising for hospitals on the financial brink, but more state support is necessary. [emphasis mine]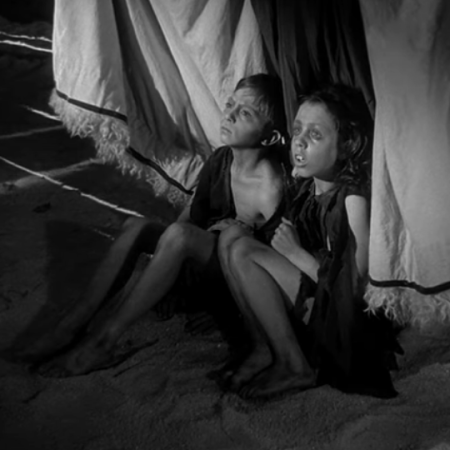 As noted by the Spirit of Christmas Present in Dickens' The Christmas
Carol, 'This boy is ignorance, this girl is want. Beware them both,
but most of all beware this boy.'
Yet, even as these California legislators, all Democrats, questioned these numbers and admitted they were woefully ignorant about the true situation, they still went ahead and approved a $150 million, with still others proposing giving the hospitals another $400 million over the next four years.
The tragedy of this farce is that it is not the exception, it is now the rule. Across America every elected legislature, whether controlled by Democrats or Republicans, functions the same. Nothing gets cut, no programs get questioned, no new allocation of aid or money is ever denied, and budgets and debt grow endlessly.
Nor are these elected officials entirely to blame. They are simply following the desires of their voters, who always seem to rise up in arms if any program gets cut. Better to approve everything so as to look good to their greedy constituents.
"We don't know anything." This should be carved in stone on the tombstone of the United States when it finally goes bankrupt and dies. Our legislators now live by this motto, as do the voters who put them in office.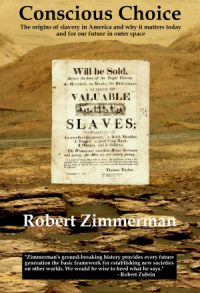 Now available in hardback and paperback as well as ebook!
From the press release: In this ground-breaking new history of early America, historian Robert Zimmerman not only exposes the lie behind The New York Times 1619 Project that falsely claims slavery is central to the history of the United States, he also provides profound lessons about the nature of human societies, lessons important for Americans today as well as for all future settlers on Mars and elsewhere in space.
Conscious Choice: The origins of slavery in America and why it matters today and for our future in outer space
, is a riveting page-turning story that documents how slavery slowly became pervasive in the southern British colonies of North America, colonies founded by a people and culture that not only did not allow slavery but in every way were hostile to the practice.
Conscious Choice
does more however. In telling the tragic history of the Virginia colony and the rise of slavery there, Zimmerman lays out the proper path for creating healthy societies in places like the Moon and Mars.
"Zimmerman's ground-breaking history provides every future generation the basic framework for establishing new societies on other worlds. We would be wise to heed what he says." —Robert Zubrin, founder of founder of the Mars Society.
All editions are available at Amazon, Barnes & Noble, and all book vendors, with the ebook priced at $5.99 before discount. The ebook can also be purchased direct from my ebook publisher, ebookit, in which case you don't support the big tech companies and I get a bigger cut much sooner.
Autographed printed copies are also available at discount directly from me (hardback $24.95; paperback $14.95; Shipping cost for either: $5.00). Just email me at zimmerman @ nasw dot org.