Many of the posts here at Behind the Black are not much more than me providing my readers a link to what I consider to be an important story, what I categorize as a point of information. Ever so often, however, one of these posts will touch a nerve and generate a great deal of comments and discussion, most of which is generally well written and thoughtful.
In December two posts in particular resulted in a lot of debate. Because these comments were part of a point of information, however, they ended up being lost amid the many similar posts. I have decided to highlight both threads here on the front page because I think it worthwhile for others to read what was written.

Thread 1: A preliminary copy of the next IPCC report has been leaked.
Here was a case where several readers who believe in global warming challenged my skeptical take on the IPCC, and I and others responded. The give and take is quite illuminating.
Thread 2: The state where this past weekend's mass murder occurred is considered to have the fifth strongest gun laws in the nation.
In suggesting with this link that the mob-like rush to impose new gun control laws on the federal level after the Connecticut mass murder was a mistake, regular reader Jim asked, quite reasonably, "So what's to be done? Given the number of recent events like this, and the absolute horror of Newtown, what if anything is to be done?" The responses from myself and others I think gives us a much more reasonable and rational look at this sad affair than we have seen from the mainstream press.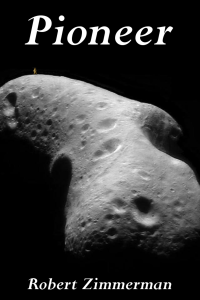 From the press release: From the moment he is handed a possibility of making the first alien contact, Saunders Maxwell decides he will do it, even if doing so takes him through hell and back.
Unfortunately, that is exactly where that journey takes him.
The vision that Zimmerman paints of vibrant human colonies on the Moon, Mars, the asteroids, and beyond, indomitably fighting the harsh lifeless environment of space to build new societies, captures perfectly the emerging space race we see today.
He also captures in Pioneer the heart of the human spirit, willing to push forward no matter the odds, no matter the cost. It is that spirit that will make the exploration of the heavens possible, forever, into the never-ending future.
Available everywhere for $3.99 (before discount) at
amazon
,
Barnes & Noble
, all ebook vendors, or direct from the ebook publisher,
ebookit
.