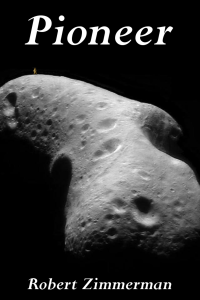 From the press release: From the moment he is handed a possibility of making the first alien contact, Saunders Maxwell decides he will do it, even if doing so takes him through hell and back.
Unfortunately, that is exactly where that journey takes him.
The vision that Zimmerman paints of vibrant human colonies on the Moon, Mars, the asteroids, and beyond, indomitably fighting the harsh lifeless environment of space to build new societies, captures perfectly the emerging space race we see today.
He also captures in Pioneer the heart of the human spirit, willing to push forward no matter the odds, no matter the cost. It is that spirit that will make the exploration of the heavens possible, forever, into the never-ending future.
Available everywhere for $3.99 (before discount) at
amazon
,
Barnes & Noble
, all ebook vendors, or direct from the ebook publisher,
ebookit
.
Sunday's Falcon 9 failure has given us a great opportunity to learn something about the mainstream press and the elite culture that dominates it. As expected, while the space-oriented press focused on what happened and what will be done to fix the problem, almost every mainstream press outlet immediately concluded that the failure was a disaster that could and (with some outlets) should ring the death knell for private space. Here are just a few examples:
I could go on. Notice that these are almost all mainstream news sources. The few that specialize in science reporting, such as Scientific American, New Scientist, and National Geographic, also tend to push the left wing science agenda.
If you can force yourself to read these articles, as I have, you will find yourself inundated with negativity, pessimism, and a can't-do attitude. Moreover, many of these articles seem expressly designed to encourage the public and politicians to withdraw their support for space exploration. For example, the Scientific American article, in outlining the history of recent ISS cargo failures, includes this quote:
Public support for the private space industry also took a blow last October (just three days after the Orbital Sciences ATK mishap) when Virgin Galactic's suborbital space plane SpaceShipTwo crashed during a test flight, killing one of its pilots. [emphasis mine]
Does Scientific American provide us any evidence that public support had dropped after these failures? No. In fact, there is absolutely no evidence that support dropped, and if anything, based on the budget increases over the years for commercial space (despite Congressional efforts to trim that budget), support has continued to grow through thick and thin.
No, Scientific American inserted this statement because they want support to drop, and have tailored their article to help make that a self-fulfilling prophecy. The negativity of all these other articles suggest that their writers and outlets feel the same. Life is hard! Bad things can happen! Better that we stick our head in the sand and hide from the evil thunder gods rather than look up to try to figure out what thunder is!
For myself, I do not find the Falcon 9 failure this past weekend depressing in the slightest. This is a company and a rocket that hadn't even existed a little more than decade ago, and in that short time they have revolutionized the rocket industry. Rockets fail. This is no surprise. Their track record, however, tells us that they will figure out what went wrong and start flying again, as soon as they can.
What I do find depressing is the failure culture of today's modern intellectual society. It is one reason I do not depend on them for news, and in general try to depend on them for as little as possible for anything else.
Readers!
Every July, to celebrate the anniversary of the start of Behind the Black in 2010, I hold a month-long fund-raising campaign to make it possible for me to continue my work here for another year.

This year's fund-raising drive however is more significant in that it is also the 10th anniversary of this website's founding. It is hard to believe, but I have been doing this for a full decade, during which I have written more than 22,000 posts, of which more than 1,000 were essays and almost 2,600 were evening pauses.

This year's fund drive is also more important because of the growing intolerance of free speech and dissent in American culture. Increasingly people who don't like what they read are blatantly acting to blackball sites like mine. I have tried to insulate myself from this tyrannical effort by not depending on Google advertising or cross-posts Facebook or Twitter. Though this prevents them from having a hold on me, it also acts to limit my exposure.

Therefore, I hope you will please consider donating to Behind the Black, by giving either a one-time contribution or a regular subscription, as outlined in the tip jar below. Your support will allow me to continue covering science and culture as I have for the past twenty years, independent and free from any outside influence.
Regular readers can support Behind The Black with a contribution via paypal:
If Paypal doesn't work for you, you can support Behind The Black directly by sending your donation by check, payable to Robert Zimmerman, to

Behind The Black
c/o Robert Zimmerman
P.O.Box 1262
Cortaro, AZ 85652