Please consider donating to Behind the Black, by giving either a one-time contribution or a regular subscription, as outlined in the tip jar to the right or below. Your support will allow me to continue covering science and culture as I have for the past twenty years, independent and free from any outside influence.
Steven Hayward at Powerline has noted a new hockey stick graph, produced by scientists and described in detail by the journal Nature. This one is not specifically about climate, but about the reliability of science and the peer-review process itself. To quote the Nature article:
[Retraction] notices [of science papers] are increasing rapidly. In the early 2000s, only about 30 retraction notices appeared annually. This year, the Web of Science is on track to index more than 400 (see 'Rise of the retractions') — even though the total number of papers published has risen by only 44% over the past decade.
Below is the graph from the Nature paper. As Hayward says, "Lo and behold, it looks like a hockey stick! (Heh.)"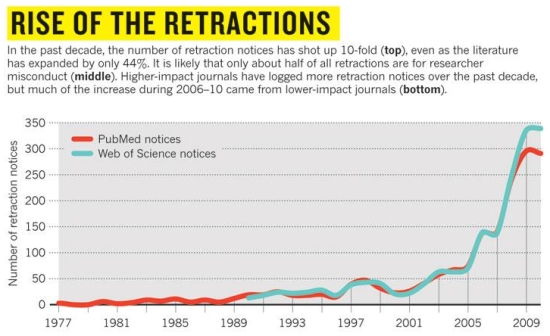 Only 28% of these retractions were due to what Nature calls "honest error." Everything else was attributed to some form of misconduct (falsification or plagiarism) or results that could not be reproduced.
From the Nature paper it appears that most of these retractions occurred in the fields of medicine or biology. However, the overall increase in retractions — combined with the willingness of the climate field to whitewash scientists who participated in the climategate scandal — suggests once again that the established science community has some serious problems, and until it addresses these problems the quality and reliability of scientific research is going to suffer.