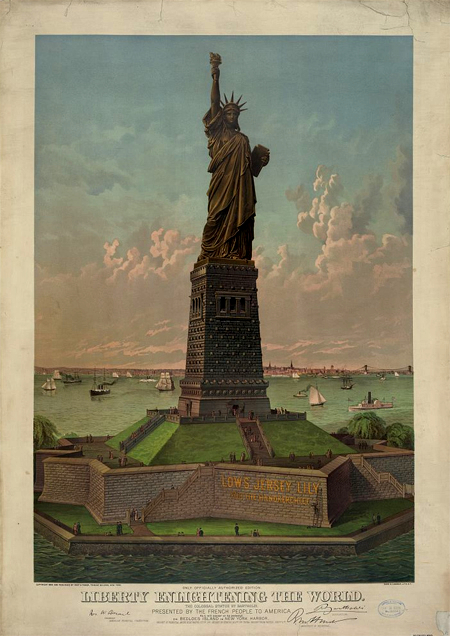 Liberty enlightening the world, both on it and in space.
Last week SpaceX successfully completed its 22nd launch in 2022, sending 59 smallsats into orbit with its Falcon 9 rocket.
In the past few decades, the launch of a smallsat would generally have not merited much further coverage. These satellites, almost always based on the 10-centimeter (or 4-inch) square cubesat design, had generally been short term objects built almost always by university students not so much to do space research as to simply learn how to build satellites and learn how they operated in orbit.
This has now all changed, fueled both by the immense drop in launch costs generated by the competition between the new rockets built by SpaceX and the new emerging smallsat rocket companies (Rocket Lab, Virgin Orbit, and Astra) and by the improved capabilities of miniaturized components. Cubesats can now do far more despite being tiny, and they can be launched for much less money.
The result has been wonderfully illustrated by the satellites launched last week on that Falcon 9. Below is a short list of the press releases in the past few days, announcing the successful activation of these satellites:

These press releases cover only 20 of those 59 satellites, but include satellites that are part of five different satellite constellations that will do precise earth mapping, provide global internet capabilities, Earth radar surveillance, climate monitoring, or global communications for the internet of things. The six Terran Orbit satellites demonstrated the capability of that company to build a variety of smallsats for different customers with different objectives, while the space burial was Celestis' 18th such mission.
In addition, the Falcon 9 launch included several payloads designed to service satellites in orbit, either by acting as a tug to bring the satellites where they needed to be, by providing them orbital capabilities they couldn't carry themselves, or by demonstrating new technologies in orbit.
Nor is this a complete list of all the satellites launched by that Falcon 9 on May 25th. There were also student-built cubesats and other smallsats for a host of other entities.
This list however demonstrates clearly the benefits from free enterprise and competition. Not only did those concepts lower the cost to orbit, they are also forcing satellite companies to innovate and lower their own costs, with the prime example being the three different commercial orbital tugs, all aiming for the business of serving future cubesat makers.
The many new cubesat constellations also show this. Several are in direct competition. Others are aiming to fill new needs that others haven't yet provided. All will provide their users greater capabilities with less risk and for less money.
And as always, this competition that will force innovation and price reductions that will generate new satellite customers, which will then feed the launch industry, which faced with increased competition for this new business will be forced to innovate and lower costs as well.
Which will cycle back to the satellite industry, causing it to grow even more. And so forth.
The cycle can be never ending, with everyone benefiting in ways that no one can possibly predict. Nor is there really any downside. Even if orbital space begins to get too crowded, freedom and competition will simply result in new companies aiming to make money solving that problem.
There is however one dark cloud over this bright future, and that will come solely from those who wish to squelch freedom. Anyone who acts to deny these launch and satellite companies their ability to achieve is really an enemy to creativity and the human soul. When someone in the next few years screams "This must be stopped to save humanity!" recognize that the screamer is not interested in saving anyone. Their only goal will be to deny others the right to fulfill their dreams.
Such nay-sayers should always be treated, at the least, with great skepticism. More properly they should be taken by the neck and shown the door. Their only achievement is to hurt others, and to deny the rest of us the benefits of a grander future. Such negativity should never be rewarded.
As John Kennedy said as he called for a manned lunar landing in 1961,
We stand for freedom. . . . NO friend, no neutral, and no adversary should think otherwise. We are not against any man — or any nation — or any system — except as it is hostile to freedom.
For the sake of all future human generations, I stand with Kennedy and freedom. We all must.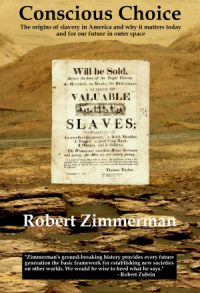 Now available in hardback and paperback as well as ebook!
From the press release: In this ground-breaking new history of early America, historian Robert Zimmerman not only exposes the lie behind The New York Times 1619 Project that falsely claims slavery is central to the history of the United States, he also provides profound lessons about the nature of human societies, lessons important for Americans today as well as for all future settlers on Mars and elsewhere in space.
Conscious Choice: The origins of slavery in America and why it matters today and for our future in outer space
, is a riveting page-turning story that documents how slavery slowly became pervasive in the southern British colonies of North America, colonies founded by a people and culture that not only did not allow slavery but in every way were hostile to the practice.
Conscious Choice
does more however. In telling the tragic history of the Virginia colony and the rise of slavery there, Zimmerman lays out the proper path for creating healthy societies in places like the Moon and Mars.
"Zimmerman's ground-breaking history provides every future generation the basic framework for establishing new societies on other worlds. We would be wise to heed what he says." —Robert Zubrin, founder of founder of the Mars Society.
All editions are available at Amazon, Barnes & Noble, and all book vendors, with the ebook priced at $5.99 before discount. The ebook can also be purchased direct from my ebook publisher, ebookit, in which case you don't support the big tech companies and I get a bigger cut much sooner.
Autographed printed copies are also available at discount directly from me (hardback $24.95; paperback $14.95; Shipping cost for either: $5.00). Just email me at zimmerman @ nasw dot org.