During an interview on CNN yesterday, Donald Trump was asked about Obamacare and the insurance mandate. The first words out of his mouth were "I like the mandate," which is what most conservative websites are focusing on.
I think it is more important to focus on Trump's entire answer, which goes on for about two and half minutes. (I have posted the video below the fold, so you can listen for yourself.) As noted at the first link above,
Trump doesn't have a freakin clue as to what he's talking about. What he's obviously done is extract a few focus group tested themes, like "dying on the street," and "get rid of the lines," and he simply says these over and over with connecting verbiage. The plan Trump refers to, the one that apparently suspends the idea of supply and demand and guarantees everyone a free lunch, simply does not exist. In the tech field it is a concept known as vaporware.
During Trump's answer, he notes the dishonesty of Obama for making wild promises about Obamacare that were outright lies ('If you like your plan, you can keep your plan. Period." and "Obamacare will cut costs by $2500 per family."). Trump then proceeds to spout his own wild and unrealistic promises about what he will do about healthcare when he is President. And they sound to me as dishonest and incoherent as the promises Obama made. Both set of promises remind me of school elections when I was in junior high school, where candidates would promise free ice cream at every break and soda machines in the halls. Such promises are silly, childish, and unrealistic, and the voters should try to be mature enough to see that.
Trump might be a better choice than Hillary Clinton or Bernie Sanders, but for Republicans to pick him as their nominee is insane. We can certainly do better.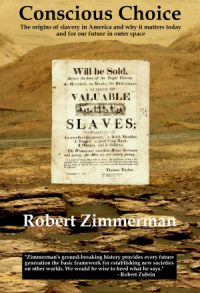 Now available in hardback and paperback as well as ebook!
From the press release: In this ground-breaking new history of early America, historian Robert Zimmerman not only exposes the lie behind The New York Times 1619 Project that falsely claims slavery is central to the history of the United States, he also provides profound lessons about the nature of human societies, lessons important for Americans today as well as for all future settlers on Mars and elsewhere in space.
Conscious Choice: The origins of slavery in America and why it matters today and for our future in outer space
, is a riveting page-turning story that documents how slavery slowly became pervasive in the southern British colonies of North America, colonies founded by a people and culture that not only did not allow slavery but in every way were hostile to the practice.
Conscious Choice
does more however. In telling the tragic history of the Virginia colony and the rise of slavery there, Zimmerman lays out the proper path for creating healthy societies in places like the Moon and Mars.
"Zimmerman's ground-breaking history provides every future generation the basic framework for establishing new societies on other worlds. We would be wise to heed what he says." —Robert Zubrin, founder of founder of the Mars Society.
All editions are available at Amazon, Barnes & Noble, and all book vendors, with the ebook priced at $5.99 before discount. The ebook can also be purchased direct from my ebook publisher, ebookit, in which case you don't support the big tech companies and I get a bigger cut much sooner.
Autographed printed copies are also available at discount directly from me (hardback $24.95; paperback $14.95; Shipping cost for either: $5.00). Just email me at zimmerman @ nasw dot org.