Please consider donating to Behind the Black, by giving either a one-time contribution or a regular subscription, as outlined in the tip jar to the right or below. Your support will allow me to continue covering science and culture as I have for the past twenty years, independent and free from any outside influence.
Yesterday NOAA's Space Weather Prediction Center published its October monthly graph, showing the sun's developing sunspot cycle in comparison with the consensis prediction made by the solar science community in May 2009.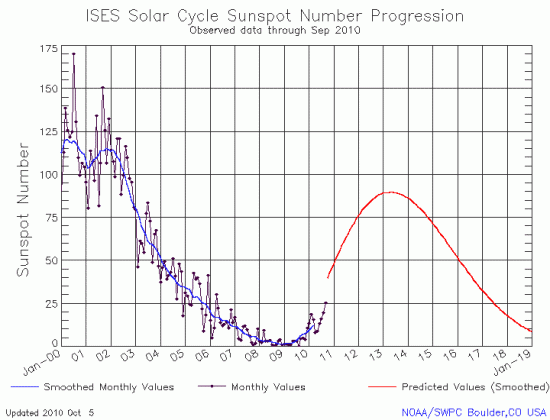 Sunspot activity in September clearly jumped, though it still remains far below predictions. Prepare for the weakest solar maximum since the 1810s!
Note also that today the Sun is blank, with no sunspots, the first time this has happened since August. At that time I speculated that this might "be the last time the Sun will be blank for years as it continues to ramp up to its next solar maximum." Obviously not. The question now is whether today will be the finale in blankness for this minimum.