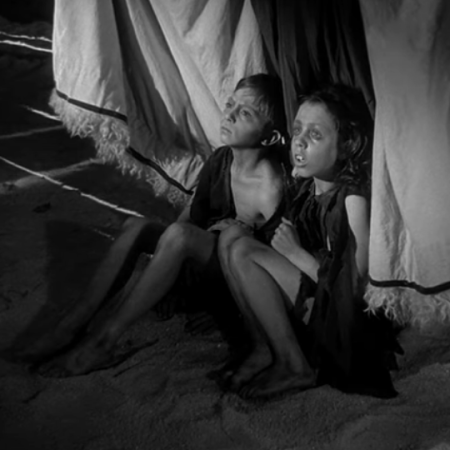 As noted by the Spirit of Christmas Present in Dickens'
The Christmas Carol, 'This boy is ignorance, this girl is want.
Beware them both, but most of all beware this boy.'
While today's blacklisting essay is mostly about one specific story, what it really does is illustrate starkly the overall ugliness and ignorance that fuels the blackballing, and how that ugliness and ignorance has seeped into every aspect of our political and cultural lives.
In a story that is hardly unique or surprising, the Los Angeles City Council last week passed a new regulation that bans the use of any gas appliances in new construction, both residential and commercial.
The council's reasons for imposing this ban — as is usual for such bans — was based not on any actual documented problem that presently exists but on a fear that one might someday occur. From the opening paragraph of the actual motion:
As the gravity and urgency of the climate emergency become more apparent with each passing year of rising temperatures, dangerous wildfires, and more severe droughts—all of which disproportionately impact communities of color and the most vulnerable Angelenos—the City of Los Angeles must do all in its power to reduce its carbon emissions and move toward a sustainable, zero-carbon economy. [emphasis mine]
Note the highlighted words. First, there is no emergency, which by definition means "an unforeseen combination of circumstances or the resulting state that calls for immediate action." Even if it is true that fossil fuels are warming the planet, the evidence for the past forty years clearly shows that this warming is relatively slow, and hardly a deathtrap. What the issue needs is a rational, calm, and reasoned approach, something this ban certainly is not.
Second, in an effort to fear-monger, the motion attempts to link "rising temperatures" with "dangerous wildfires" and "more severe droughts." However, there is zero evidence that these three things have anything to do with each other. Not only are there far fewer wildfires today then there were fifty years ago, there is ample evidence to show that the recent increase in fires is mostly due to bad policies at various government forest agencies, not global warming. Those agencies — both state and federal — allowed for an unhealthy growth of underbrush by preventing for decades any fires while simultaneously blocking any logging to clear out that overgrowth. The result was that when fires did occur, they were more explosive and harder to control. And in some cases, like the recent fires in New Mexico, those agencies actually set the fires themselves!
Similarly, the data does not yet connect global warming with the recent western droughts. To link the two is to make up a conclusion from data that simply doesn't yet exist.
Third, the motion is incredibly ironic. While the Democrats who run LA's city council love to cite how much they care for minorities (as indicated by the third highlighted phrase), this ban specifically blacklists every Asian restaurant in town, almost all of which are owned by minorities.
Leo and Lydia Lee, owners of RiceBox, a Cantonese BBQ restaurant in downtown Los Angeles, use gas to cook the entirety of their menu, with the exception of rice. Gas powers the stoves used to cook dishes in a wok and the custom barbecue oven used to prepare the restaurant's signature char siu Duroc pork, roasted low and slow with a sweet honey glaze.

"The wok itself is really essential to Asian cuisine," Leo said. "By taking gas away, you're telling us we cannot use woks anymore, essentially taking away our identity and heritage. It forces us to adapt to American culture." If there's no gas, Lee said he "won't even consider" opening a second location of RiceBox in Los Angeles.
In its ignorant effort to solve a problem that doesn't yet exist, the LA city council has gone out of its way to destroy the incomes of its minority population. Not only is it willing to ban already existing minority businesses, it is actively working to prevent future generations of minorities from climbing out of poverty.
Finally, there is the insane irrationality of this motion. It declares:
In recent years, the City has made progress towards decarbonizing its electric grid, phasing out urban oil drilling, and investing in electric vehicle charging infrastructure.
These nitwits absurdly believe that by shifting to electric vehicles and electric ovens they will end the use of fossil fuels. Yet, that electricity must be generated somehow, and since California is also closing down its nuclear power plants while eagerly dismantling its hydroelectric dams, the only method remaining to get that power will be by burning fossil fuels.
Of course, California has another solution, very typical of leftists. Rather than generate their own power, they will use other people's power, importing electricity from other states that still allow it to be generated.
None of this of course does anything to stop global warming. What it does do is bankrupt California's citizens, most especially the poorest. Before long no restaurants will be possible in Los Angeles. Neither will cars. The population — what's left of it after anyone with any brains and sufficient resources has fled — will be condemned to a dystopia not unlike North Korea. And I can guarantee that the politicians who still run the LA city government at that time are not going to allow those poor citizens to publicly complain. There will be more blacklisting and oppression, all in the name of ignorant good intentions.
The actions of this LA city council however are merely symptomatic of today's general culture, especially in the urban cities controlled and run almost exclusively by Democrats. If it isn't one broad ban against gas ovens, its another against guns, against whites, against American history, against anyone who might even slightly question the ignorant agenda of this close-minded, hateful, and oppressive culture. Rather than debate and find solutions, this culture now shuts that debate down. It is certain it knows the answer, and will not tolerate dissent.
We face a truly grim future if this political culture is not soundly defeated, and soon.
UPDATE: The video embedded below, illustrating the level of ignorance that can be found among young people in Times Square in New York, proves that this political culture will not be defeated anytime soon. Our fascist leaders now have the ignorant population they need, and they will use it to enforce their will.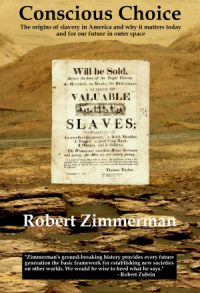 Now available in hardback and paperback as well as ebook!
From the press release: In this ground-breaking new history of early America, historian Robert Zimmerman not only exposes the lie behind The New York Times 1619 Project that falsely claims slavery is central to the history of the United States, he also provides profound lessons about the nature of human societies, lessons important for Americans today as well as for all future settlers on Mars and elsewhere in space.
Conscious Choice: The origins of slavery in America and why it matters today and for our future in outer space
, is a riveting page-turning story that documents how slavery slowly became pervasive in the southern British colonies of North America, colonies founded by a people and culture that not only did not allow slavery but in every way were hostile to the practice.
Conscious Choice
does more however. In telling the tragic history of the Virginia colony and the rise of slavery there, Zimmerman lays out the proper path for creating healthy societies in places like the Moon and Mars.
"Zimmerman's ground-breaking history provides every future generation the basic framework for establishing new societies on other worlds. We would be wise to heed what he says." —Robert Zubrin, founder of founder of the Mars Society.
All editions are available at Amazon, Barnes & Noble, and all book vendors, with the ebook priced at $5.99 before discount. The ebook can also be purchased direct from my ebook publisher, ebookit, in which case you don't support the big tech companies and I get a bigger cut much sooner.
Autographed printed copies are also available at discount directly from me (hardback $24.95; paperback $14.95; Shipping cost for either: $5.00). Just email me at zimmerman @ nasw dot org.