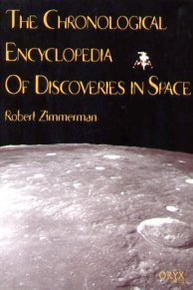 After being in print for twenty years, the Chronological Encyclopedia of Discoveries in Space, covering everything that was learned on every single space mission in the 20th century, has finally gone out of print.
I presently have my last four hardback copies available for sale. The book sold new for about $90. To get your own autographed copy of this now rare collector's item, please send a $120 check (which includes shipping) payable to Robert Zimmerman to
Behind The Black, c/o Robert Zimmerman
P.O.Box 1262
Cortaro, AZ 85652

"Useful to space buffs and generalists, comprehensive but readable, Bob Zimmerman's Encyclopedia belongs front and center on everyone's bookshelf." -- Mike Collins, Apollo 11 astronaut
"The Chronological Encylopedia of Discoveries in Space is no passionless compendium of information. Robert Zimmerman's fact-filled reports, which cover virtually every spacecraft or probe to have ventured into the heavens, relate the scientific and technical adventure of space exploration enthusiastically and with authority." -- American Scientist
It appears that U.S. aerospace layoffs more than tripled in the first half of 2011.
The downsizing, prompted by cutbacks in defense and government contracts, jumped from 6,121 in the first six months of 2010 to 20,851 this year, based on planned layoffs announced by major employers.
Though I have always favored shutting down the government space agency and replacing it with privately-built rockets and spaceships, the manner in which this is being done now is disgraceful. George Bush declared the retirement of the shuttle seven years ago. Since then Congress, Bush, and Obama have all done an abominable job preparing the nation for that retirement.

Had Bush and Congress focused on building up private space in 2004, we would now have a robust private space launch industry ready to replace the shuttle, as well as hire those laid off shuttle workers. Instead, they focused on having NASA build the pork-laden Constellation system. Then, as that program was actually nearing some completion, Obama shut it down cold turkey.
The result of these political follies is that the United States no longer has the ability to get our astronauts to our own space station, while tens of thousand of skilled engineers are without work. If anyone has any doubt about the foolishness of putting our faith in politicians, this whole disaster should end that doubt forever.
The good news in all this is that these engineers are not going to starve to death. They are skilled and passionate about what they do. I have faith they will find other work. In fact, I strongly believe that many of them will create new work, infusing our society with new industries and new innovation.
It is just a shame that the transition had to be as painful as it is.