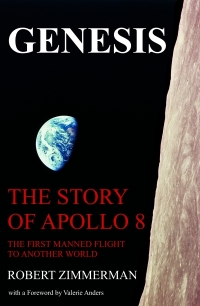 On Christmas Eve 1968 three Americans became the first humans to visit another world. What they did to celebrate was unexpected and profound, and will be remembered throughout all human history. Genesis: the Story of Apollo 8, Robert Zimmerman's classic history of humanity's first journey to another world, tells that story, and it is now available as both an ebook and an audiobook, both with a foreword by Valerie Anders and a new introduction by Robert Zimmerman.
The ebook is available everywhere for $5.99 (before discount) at
amazon
, or direct from my ebook publisher,
ebookit
.
The audiobook is also available at all these vendors, and is also
free with a 30-day trial membership to Audible.
"Not simply about one mission, [Genesis] is also the history of America's quest for the moon... Zimmerman has done a masterful job of tying disparate events together into a solid account of one of America's greatest human triumphs." --San Antonio Express-News
The Patient Centered Outcomes Research Institute (PCORI), created by Obamacare, announced its first round of grants today, part of a funding program of fifty "pilot projects" totaling $30 million.
It didn't take much research for me to conclude that, while some of this work might be useful, most of it sounds like bureaucratic claptrap. For example, consider the description Nature gives for these three grants:

With $425,286, a team at the Medical University of South Carolina in Charleston will examine negative outcomes that aren't symptoms of rare genetic diseases – such as lack of affordable drug or therapy options, insurance concerns, and social stigma. In local and virtual communities of patients with alpha-1 antitrypsin deficiency, they'll try to measure these burdens.
A research group at Children's Hospital of Philadelphia in Pennsylvania received $668,190 to figure out how to weigh the views of children with autism with those of their parents in treatment decisions and outcome preferences.
At Ohio State University in Columbus, a $653,014 project will study virtual reality gaming as a potential cost-effective neurological rehab therapy for stroke patients who suffer from chronic hemiparesis, or weakness on one side of the body.
All three sound suspiciously like a waste of money, better spent in numerous other ways.
After reading the Nature article, I went to the PCORI website and randomly downloaded a half dozen other grants, just to see if my suspicions were correct. All were vague and incoherent. For example, consider this $629,626 grant to the University of Arizona for "Integrating and Comparing Community-Based Participatory and Conjoint Analysis". Let me quote the abstract:
For this project we will implement and test two multi-component methods by which patient preferences for the delivery of behavioral health services can be efficiently gathered and translated into patient-centered care options and outcomes for SCHC, and for other FQHCs serving low-income, primarily Hispanic patients. The first multi-component method will integrate components of participatory research and systematic qualitative data collection and analysis. The second method will add conjoint analysis to further improve patient centered-care in real world, choice-based, scenarios. The conjoint survey will reflect a range of patient-centered service attributes and provider-relevant attributes important to SCHC's complex service environment. Conjoint analysis will yield information on the relative importance of each of the attributes considered and whether there are identifiable patient segments with similar internal preferences, whose preferences differ strongly from those of other segments.
If you can tell me what any of that means, you are either lying to yourself, or getting some of the funds and want to protect your interests.
Almost all the grants were given in big urban areas that are Democratic Party strongholds. I wonder why.
But then, this is the government. What matter if this work makes no sense? What matter that there might be some political payback and pork in how the money is distributed. A government official has declared it's important, so shut up and pay up!
Readers!
My July fund-raiser for Behind the Black is now over. The support from my readers was unprecedented, making this July campaign the best ever, twice over. What a marvelous way to celebrate the website's tenth anniversary!

Thank you! The number of donations in July, and continuing now at the beginning of August, is too many for me to thank you all personally. Please forgive me by accepting my thank you here, in public, on the website.

If you did not donate or subscribe in July and still wish to, note that the tip jar remains available year round.
Regular readers can support Behind The Black with a contribution via paypal:
If Paypal doesn't work for you, you can support Behind The Black directly by sending your donation by check, payable to Robert Zimmerman, to

Behind The Black
c/o Robert Zimmerman
P.O.Box 1262
Cortaro, AZ 85652