A draft bill in Congress is proposing the Pentagon develop an engine for the Atlas 5 engine to replace the Russian engine now used.
The legislation passed by a House subcommittee Wednesday calls for up the U.S. military to spend up to $220 million next year to kick off full-scale development of the engine, which could be ready for flights no later than 2019. The bill states the Defense Department "should develop a next-generation liquid rocket engine that is made in the United States, meets the requirements of the national security space community, is developed by not later than 2019, is developed using full and open competition, and is available for purchase by all space launch providers of the United States."
There is no reason for this funding gift to the aerospace industry. For one thing, there are two rockets that already exist that use all U.S. parts, the Delta family of rockets and the Falcon 9. For another, if Congress stays out, the private sector will take care of this need and do it for a lot less and far quicker, while costing the taxpayers relatively little. By making this a government project we guarantee it will be expensive and take forever, thus keeping the pork flowing to Congressional districts without solving the problem.
And speaking of keeping pork flowing to Congressional districts, pork king Senator Richard Shelby (R-Alabama) today ripped into NASA for trying to trim a little from the budget of SLS (which sends a lot of cash to Alabama). He also condemned NASA's manned commercial effort.

Shelby's statements are absurd and illustrate a level of incompetence that is staggering. SLS as designed will not be able to ferry crews to ISS. It won't fly with humans until 2021 and even then not more than once every four years. Its yearly budget equals what NASA is spending on the entire manned commercial space program, from start to finish, and finally, the cuts to SLS that NASA is proposing are relatively tiny and if used for manned commercial space instead will likely help guarantee that we get a manned capability to ISS by 2017 at the latest.
The only reason Shelby is pushing SLS is that if ferries money to his state instead of ferrying humans into space. It is his type of selfish and foolish reasoning in Congress that put us in this situation in the first place. It is time we dumped such reasoning, for good.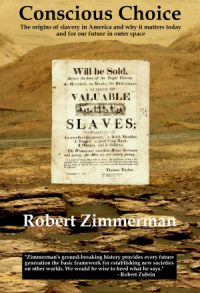 From the press release: In this ground-breaking new history of early America, historian Robert Zimmerman not only exposes the lie behind The New York Times 1619 Project that falsely claims slavery is central to the history of the United States, he also provides profound lessons about the nature of human societies, lessons important for Americans today as well as for all future settlers on Mars and elsewhere in space.
Conscious Choice: The origins of slavery in America and why it matters today and for our future in outer space
, is a riveting page-turning story that documents how slavery slowly became pervasive in the southern British colonies of North America, colonies founded by a people and culture that not only did not allow slavery but in every way were hostile to the practice.
Conscious Choice
does more however. In telling the tragic history of the Virginia colony and the rise of slavery there, Zimmerman lays out the proper path for creating healthy societies in places like the Moon and Mars.
"Zimmerman's ground-breaking history provides every future generation the basic framework for establishing new societies on other worlds. We would be wise to heed what he says." —Robert Zubrin, founder of founder of the Mars Society.
Available everywhere for $3.99 (before discount) at Amazon, Barnes & Noble, and all ebook vendors, or direct from the ebook publisher, ebookit. And if you buy it from ebookit you don't support the big tech companies and I get a bigger cut much sooner.