The progenitor star that produced the May supernovae in the Whirlpool Galaxy (also known as M51) has been identified, and it isn't what scientists predicted.
In a preprint paper published today on the Los Alamos astro-ph website, astronomers describe the star that exploded as a yellow supergiant, not a red supergiant or Wolf-Rayet star, as predicted by the theory explaining this particular type of supernova. Moreover, though theory also favors the star being a member of a binary system, the progenitor of 2011dh appears to be a lone star, not even a member of a cluster.

Before it exploded, the star is believed to have been an F-type supergiant with an effective surface temperature of approximately 6000 degrees Kelvin and a core mass of about 13 solar masses. The spectroscopy suggests that the star had already lost most of its hydrogen envelope prior to the eruption, and was burning its helium core.
This new data point only adds to the growing database of supernovae progenitors that is increasingly baffling the theorists, as the mix of properties and types of these stars is not matching their theories. As noted in the paper's conclusion:
Despite the canonical prediction that Type II supernovae arise from red supergiants, there is mounting evidence that some stars explode as yellow supergiants. A handful of Type II supernovae have been observed to arise from yellow supergiants: SNe 1993J and 2009kr. The locations of the progenitors on the Hertzsprung-Russell diagram shows clearly that these stars are not located on the predicted end points for single star stellar evolution tracks. In addition, despite arising from supposedly similar yellow supergiant progenitors, these supernovae display a wide range of properties.
Not surprising, nature is once again throwing us a curveball. The kinds of supernovae and the stars that produce them is turning out to be far more complicated than the theorists had predicted. And without a solution to this mystery, it will be impossible for scientists to identify which stars in our galaxy will be the next to go boom.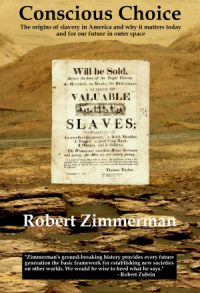 Now available in hardback and paperback as well as ebook!
From the press release: In this ground-breaking new history of early America, historian Robert Zimmerman not only exposes the lie behind The New York Times 1619 Project that falsely claims slavery is central to the history of the United States, he also provides profound lessons about the nature of human societies, lessons important for Americans today as well as for all future settlers on Mars and elsewhere in space.
Conscious Choice: The origins of slavery in America and why it matters today and for our future in outer space
, is a riveting page-turning story that documents how slavery slowly became pervasive in the southern British colonies of North America, colonies founded by a people and culture that not only did not allow slavery but in every way were hostile to the practice.
Conscious Choice
does more however. In telling the tragic history of the Virginia colony and the rise of slavery there, Zimmerman lays out the proper path for creating healthy societies in places like the Moon and Mars.
"Zimmerman's ground-breaking history provides every future generation the basic framework for establishing new societies on other worlds. We would be wise to heed what he says." —Robert Zubrin, founder of founder of the Mars Society.
All editions are available at Amazon, Barnes & Noble, and all book vendors, with the ebook priced at $5.99 before discount. The ebook can also be purchased direct from my ebook publisher, ebookit, in which case you don't support the big tech companies and I get a bigger cut much sooner.
Autographed printed copies are also available at discount directly from me (hardback $24.95; paperback $14.95; Shipping cost for either: $5.00). Just email me at zimmerman @ nasw dot org.