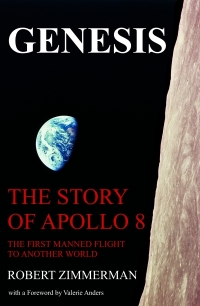 On Christmas Eve 1968 three Americans became the first humans to visit another world. What they did to celebrate was unexpected and profound, and will be remembered throughout all human history. Genesis: the Story of Apollo 8, Robert Zimmerman's classic history of humanity's first journey to another world, tells that story, and it is now available as both an ebook and an audiobook, both with a foreword by Valerie Anders and a new introduction by Robert Zimmerman.
The ebook is available everywhere for $5.99 (before discount) at
amazon
, or direct from my ebook publisher,
ebookit
.
The audiobook is also available at all these vendors, and is also
free with a 30-day trial membership to Audible.
"Not simply about one mission, [Genesis] is also the history of America's quest for the moon... Zimmerman has done a masterful job of tying disparate events together into a solid account of one of America's greatest human triumphs." --San Antonio Express-News
The situation at the Japanese nuclear power planets continues to improve. Key quote:
It's hard to imagine, but it's now been eight days since the Honshu quake and tsunami, and evidence continues to accumulate that while it was certainly a bad industrial accident, the "doomsday" and "worst case" scenarios just haven't happened. Every day longer makes those scenarios even less likely — the reactors are cooling, the Japanese are getting them supplied with power, and the fuel rods haven't burned.
Meanwhile, the scope of the real disaster in Japan is becoming more clearly known: No bodies or survivors found in tsunami-hit Miyagi community.
Kobe fire department rescue team members, who also worked in areas affected by the Great Hanshin Earthquake, have been operating in Minami-Sanrikucho. But they do not have any idea of the whereabouts of the legions of missing people swept away after massive tsunami swallowed up houses. In all, 8,000 town residents remain missing.
What is it with today's modern American press, that is obsessed about a non-problem at a nuclear power plant, while close-by whole cities have been laid waste, with literally tens of thousands of people killed?
My heart goes out to the Japanese people. Faced with such destruction, they still seem undaunted and unbowed. May they rebuild their country quickly and with courage.
Readers!
My July fund-raiser for Behind the Black is now over. The support from my readers was unprecedented, making this July campaign the best ever, twice over. What a marvelous way to celebrate the website's tenth anniversary!

Thank you! The number of donations in July, and continuing now at the beginning of August, is too many for me to thank you all personally. Please forgive me by accepting my thank you here, in public, on the website.

If you did not donate or subscribe in July and still wish to, note that the tip jar remains available year round.
Regular readers can support Behind The Black with a contribution via paypal:
If Paypal doesn't work for you, you can support Behind The Black directly by sending your donation by check, payable to Robert Zimmerman, to

Behind The Black
c/o Robert Zimmerman
P.O.Box 1262
Cortaro, AZ 85652