A real estate industry group today announced that there was a nine percent jump in foreclosures during the month of May.
RealtyTrac reported that 205,990 U.S. properties received filings last month, including default notices, scheduled auctions and bank repossessions, marking the first monthly increase since January. Bank repossessions climbed steeply, up 7% to 54,844, after hitting a four-year low in April.
The report also noted that foreclosures made up 26% of U.S. home sales in first quarter and that more than 30% of mortgage borrowers were still underwater.
As someone who just moved to Tucson and spent more than six months searching for and finally purchasing a home, I can add a bit of personal experience to these dry statistics. And my perspective is sadly not encouraging.

When we arrived in Tucson in late October, we thought that we would have an easy time finding the right house. We had owned our Maryland house outright, so we didn't need a bank mortgage to purchase the house in Arizona. Many people had told us that if you have cash, you will be able to get a good deal. Moreover, the housing crisis suggested to us that there would be a lot of good homes to choose from at reasonable prices.
Diane and I however were very picky. We wanted a single story house with more than 2000 square feet and four bedrooms (a master, two offices, and a guest room). In addition, we wanted the house to have a nice view of the mountains, and be located on the western side of Tucson, reasonably close to the interstate highway.
Fortunately, our real estate agent, Don Ernle, was very cooperative, and willing to take us to see as many houses as we wished.
In the end, we looked at more than 150 houses, covering about two thirds of the city of Tucson. From this experience, we gained a very educated personal perspective of the sad state of the housing market.
I would estimate that from one third to half of all the houses we looked at were either foreclosures, short sales, abandoned by their owners, or houses where the owners had stopped paying their mortgage and the bank had simply not yet taken action against them.
Let me repeat that: Almost half of all homes for sale were underwater, the bank losing money on the mortgage.
This situation was also terrible for the housing stock. When a home is in foreclosure or has been abandoned, there is no one to maintain it. Often the bank is out-of-state, making for an absentee owner. The result is that the house begins to decay. Worse, being empty with no one to watch it the house often gets vandalized. It was very typical for these foreclosed homes to have had all of their appliances stolen, with evidence of squatters having lived there. There might be leaks in the ceilings and holes in the walls. Carpets and floors would often be damaged and need replacing.
Thus, you might be able to get a good deal on the house, but you would also have to spend a lot of money fixing it up.
With almost half the homes in this kind of condition it is no wonder home values have been going down.
And going down they were. From December to April we saw a 10 to 25 percent drop in home prices for the type of homes we were looking at. When in early December we finally came to an agreement on the house we wanted, it was priced at $370K. At the time, this was at the low end of the market price for that type of house, making for a good deal.
The house was a short sale, however, and it took the bank four and a half months to finally approve the sale. When we actually settled in late April, that $370K price was now at the high end of the market. Comparable houses in the same neighborhood that had been priced at $400K in December were now selling for $325K to $350K.
We went ahead with the deal anyway, because the house was exactly what we wanted, and we weren't really buying it for investment. Moreover, it was still a great deal, as the house was only six years old and had originally sold for $630K, meaning that we were getting it for 40% less than its previous value.
Nonetheless, the experience left me very worried about the future state of the U.S. economy, especially when I have read articles about how the banking industry had, for a variety of reasons, not yet released all their foreclosures to the market. When these homes become available at their typically cut-rate prices (as the article above suggests is finally happening now), home values will surely drop again.
In other words, we haven't yet seen the bottom of the market.
Why are we in this situation? It is very simple. When Congress in the 1990s decided to force banks to give mortgages to people who could not afford them, it created a glut of buyers. A glut of buyers increased demand, which caused a steep but artificial rise in home prices while simultaneously producing a wave of home construction.
When the buyers who couldn't afford their homes abandoned them in the late 2000s, the result was a glut of homes with no one to buy them. That, combined with the decaying state of the housing stock because so many homes were unoccupied, caused a collapse in home prices.
The key phrase however that really explains this whole sad story, however, is this:
Congress decided to force
With the best of intentions, Congress in the 1990s inserted itself into the market, trying to artificially allow poorer people to become homeowners. Such things don't work, and in the end, it caused everyone far more pain.
What next? I am no real estate expert. My knowledge here is based on personal experience and what I read from many news sources on the web. However, I expect the housing market to remain weak for at least five more years, as it is going to take at least that long to cycle through these damaged foreclosures and get them rebuilt, sold, and off the market.
In the meantime, the rental market continues to boom. And if you have spare cash and want an investment, real estate is probably a good place to go.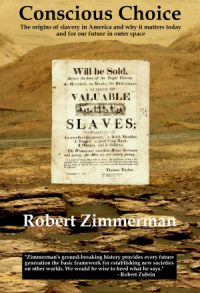 Now available in hardback and paperback as well as ebook!
From the press release: In this ground-breaking new history of early America, historian Robert Zimmerman not only exposes the lie behind The New York Times 1619 Project that falsely claims slavery is central to the history of the United States, he also provides profound lessons about the nature of human societies, lessons important for Americans today as well as for all future settlers on Mars and elsewhere in space.
Conscious Choice: The origins of slavery in America and why it matters today and for our future in outer space
, is a riveting page-turning story that documents how slavery slowly became pervasive in the southern British colonies of North America, colonies founded by a people and culture that not only did not allow slavery but in every way were hostile to the practice.
Conscious Choice
does more however. In telling the tragic history of the Virginia colony and the rise of slavery there, Zimmerman lays out the proper path for creating healthy societies in places like the Moon and Mars.
"Zimmerman's ground-breaking history provides every future generation the basic framework for establishing new societies on other worlds. We would be wise to heed what he says." —Robert Zubrin, founder of founder of the Mars Society.
All editions available at Amazon, Barnes & Noble, and all book vendors. The ebook can be purchased direct from my ebook publisher, ebookit, in which case you don't support the big tech companies and I get a bigger cut much sooner. Note that the price for the ebook, $3.99, goes up to $5.99 on September 1, 2022.
Autographed printed copies are also available at discount directly from me (hardback $24.95; paperback $14.95). Just email me at zimmerman @ nasw dot org.