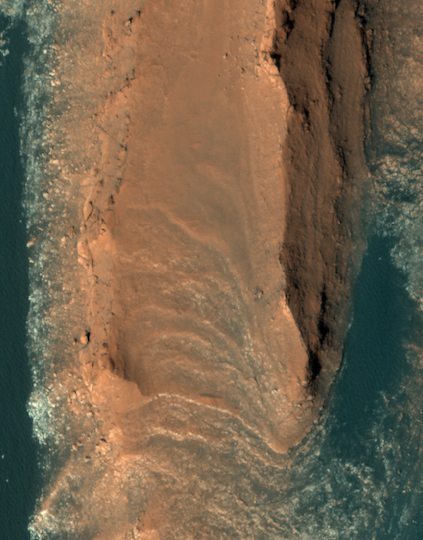 Last week the Mars Reconnaissance Orbiter team released this beautiful image of what they call "layered yardangs" on Mars.
What creates these sharp ridges? This layered terrain has been sculpted by the wind. The aligned ridges are called yardangs, which are formed in areas where the dominant erosional force is the wind. Yardangs are also found on Earth, usually in very dry areas.
What I see are majestic red cliffs rising out of a aqua-colored sand desert. What a place to visit!
Please consider donating to Behind the Black, by giving either a one-time contribution or a regular subscription, as outlined in the tip jar below. Your support will allow me to continue covering science and culture as I have for the past twenty years, independent and free from any outside influence.
Regular readers can support Behind The Black with a contribution via paypal:
If Paypal doesn't work for you, you can support Behind The Black directly by sending your donation by check, payable to Robert Zimmerman, to

Behind The Black
c/o Robert Zimmerman
P.O.Box 1262
Cortaro, AZ 85652