Back on December 31, 2013, I put up a post about a New York Times article in which it was reported that Americorps volunteers were losing their health insurance plans because of Obamacare, much to their chagrin.
In reading the article, the quote that stood out to me was this one from one volunteer named Sarah Sklaw.
Sarah L. Sklaw, a 22-year-old Vista member from New York City, said: "I really support the Affordable Care Act, and I don't want to be a naysayer. But it was surprising and frustrating to be told that our health coverage would not meet the law's standards, especially because the Corporation for National and Community Service told us at orientation in August that we did not need to worry about the issue."
My reaction? "In other words, she supported Obamacare, partly because she was told "if she liked her health plan, she could keep her health plan. Period." She has now discovered that this was a lie and is angry. Who wudda thunk it?"
Last week Sarah Sklaw emailed me. She was very unhappy about my post because in her mind I misrepresented her feelings about the situation. This is her email:

My name is Sarah Sklaw. I'm an Americorps member from New York City. Perhaps my name is familiar to you as on December 31st of last year you wrote a blog post where you pulled a quote of mine from a New York Times article. However, in quoting me you represented my opinion and then drew your own incorrect conclusions about me, my feelings towards the Affordable Care act and my own insurance.

While I highly doubt that a website of such dubious quality as yours posts corrections, I would like to offer you a few.

1. I do still have insurance, I have not lost it on account of ACA. 2. My insurance falls short of the ACA mandates. For example, I do not have care for preexisting conditions. I believe this is a real shortcoming of my insurance and I support the guidelines for insurance laid out by ACA. 3. I do not hold the Obama administration responsible for this shortcoming. Rather, I believe this is a problem that my employer must address. If, as is the case for me, an employer promises to offer coverage and then their coverage falls short of ACA, it is their responsibility to bring coverage into line with ACA mandates, not put the burden of finding external insurance on the employed.

Finally, I live in Louisiana. I make just over the federal poverty line. This is because I knowingly took a position that pays this stipend in exchange for other benefits. If I lived in a state that had raised the limit for medicaid I would be covered. Unfortunately Louisiana does not believe that people are entitled to live lives free of illness or crippling debt brought about by paying for medical expenses. I guess you don't either.

Please take down the post in which you quote me or I will contact the copyright department at the New York Times.

Sarah
My response was as follows:
First to clarify some assumptions and misrepresentations that you make that need correcting:

1. I always post corrections, if one is warranted. I do it whenever necessary. To snidely accuse me of not doing so beforehand is quite impolite and somewhat insulting, to put it mildly. It is hardly the most effective technique for civilized discussion.

2. My use of your quote from the New York Times' article is not a copyright violation. It falls under fair use. I quoted only a tiny part of the article, and then provided a link to the article itself. If you want to contact them about this go right ahead, but it will accomplish you nothing.

3. If I understand you correctly, your real complaint is that I interpreted your quote incorrectly. … From your own words, "surprising and frustrating," I gathered that you were unhappy with Obamacare and angry that it did not do as promised. From your email above, however, it instead appears you are quite happy about Obamacare, even though it did not solve your medical financial problems, as promised. [Ed. I must add now that it appears her real problem is that her employer doesn't wish to take on the added burden of the Obamacare mandates, and has passed that responsibility onto her. Thus, her complaint really is that the law didn't force them to provide these additional mandates. Moreover, I suspect if they did provide them and then charged her more for them, she would then have complained about the added expense, expecting them to be given to her for free.]

I will be glad to publish a clarification, but in doing so I am going to quote your email, extensively, and comment on it. You see, I think your continued support of this terrible law is a mistake, and should be highlighted, especially considering the millions of Americans it is hurting terribly. Do you not care about them?

4. Having said this, however, I must tell you emphatically that I will not take down my post under any conditions, especially under threat. First, I did not misquote you, unless the New York Times did so. I quoted what they published exactly as they published it. If the quote is wrong you better take that up with the New York Times. If they issue a correction and you let me know about it, I will then be glad to issue a correction as well.

In case you have forgotten, there is something called the first amendment. You might not like what I have to say, but I have the unequivocal right to say it. You can disagree with me, and in fact, you are welcome to comment on my webpage yourself, after I publish my clarification. However, you must live with the fact that others might not agree with you and might comment as well.

One more point: I find it tragic and depressing that you think your medical expenses should be paid for by someone else. I grew up under the premise that we are each personally responsible for our lives, and should be ashamed if we are forced to go "on the dole." Sadly, you seem to be proud of doing such a thing.

With all due respect,
Bob
As always, if you demand that people treat each other with respect, and do the same to them, they respond properly. Her next email, far more civil, was as follows:
Thank you. I appreciate your willingness to make corrections. You are welcome to quote my email directly. I just ask that you account for my typo that I corrected in the response email. You are correct in noting that this is a misinterpretation, not a misquote. Additionally, I presume that means I have the right to publish your email as well.

I am surprised and frustrated by my employer. Not by Obamacare. I believe that healthcare is a fundamental right. I am quite lucky that I was born healthy and have not had any medical financial problems. That does not mean that I do not empathize with the people who have.

I am aware that some previously covered individuals have had to undergo changes to their insurance due to the Affordable Care Act. To say it is hurting them terribly is a massive overstatement. I do care about them and I believe that if the Congress could open debate about Obamacare and making necessary changes to the law (which is a law and has been ruled constitutional by the US Supreme Court) without try[ing] to repeal it then those issues could be addressed.

I do not need your pity about "going on the dole." I believe we have a fundamental disagreement about the role of welfare in American society. In my opinion it is much more embarrassing that as a nation we have levels of inequality unseen since the gilded age, concentration of wealth in the hands of a tiny minority that influences undue control over our government and a corporate class willing to pay their employees such a tiny sum that they force them onto welfare while raking in astronomical profits. This, in my opinion is corporate welfare. In the US we stigmatize individuals who get assistance from the government for food, medical expenses and shelter but laud those who get it to increase the size of their coffers. To act as if welfare is unnecessary is to ignore centuries of unequal treatment and marginalization in the US. To say that we are each "responsible for our own lives," is to ignore the impact of systematic privileges and inequalities. This fallacy may have had some relevancy fifty years ago but to act as if it is still the case in a country with the lowest economic mobility in the western world is to be ignorant of the state contemporary economy.

Furthermore to act as if other individuals were not responsible for subsidizing the healthcare of the uninsured before Obamacare is incorrect. The ER cannot turn away people. Thus poor and uninsured individuals would go to the ER (the most expensive place to get treatment) after their illness had progressed instead of seeing a primary care doctor and treating the illness early on. The cost for this ER visit (which uninsured individuals could not possibly afford) would then be passed along to insured individuals through higher premiums.

I respect your opinion that the Affordable Care Act is flawed. I do not respect the liberty you took in misinterpreting my quote.

sincerely
Sarah
I am not here to debate at length Sarah's beliefs. For example, I think she would be surprised if I told her that I agree with her about corporate welfare. I think the government should stop giving away my money to a lot of private entities. I think the government should also stop taking it from me in the first place, so that I can decide where it should go.
Nonetheless, as she says, we have a "fundamental disagreement." She wants the government to have more power in order to force people to do as she wishes, which is to provide everyone free healthcare. I in turn wish the government would get out of this entirely, and let people freely deal with it on an open market.
I must say, however, that her very sincere good intentions to provide everyone free healthcare can only lead us to one place, and it ain't a place anyone would want to go willingly, if they realized that was their destination.
We are heading there, unfortunately. The nation now has too many people like Sarah who firmly believe it reasonable and fair to force others to pay for things they strongly feel they have the right to have. And since this is a belief, not rationally worked out, you can't easily dissuade them from it.
Unfortunately, people like Sarah will only learn the failure of their belief once we arrive at our destination, as have millions learned in Russia, Germany, Eastern Europe, and elsewhere where similar idealistic leaders with great power tried also to force society to do things that are simply not natural or practical in the real world, all on the basis of good intentions and sincere utopian ideology.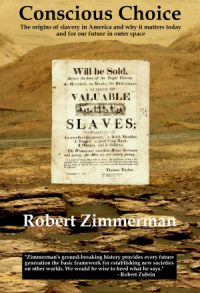 Now available in hardback and paperback as well as ebook!
From the press release: In this ground-breaking new history of early America, historian Robert Zimmerman not only exposes the lie behind The New York Times 1619 Project that falsely claims slavery is central to the history of the United States, he also provides profound lessons about the nature of human societies, lessons important for Americans today as well as for all future settlers on Mars and elsewhere in space.
Conscious Choice: The origins of slavery in America and why it matters today and for our future in outer space
, is a riveting page-turning story that documents how slavery slowly became pervasive in the southern British colonies of North America, colonies founded by a people and culture that not only did not allow slavery but in every way were hostile to the practice.
Conscious Choice
does more however. In telling the tragic history of the Virginia colony and the rise of slavery there, Zimmerman lays out the proper path for creating healthy societies in places like the Moon and Mars.
"Zimmerman's ground-breaking history provides every future generation the basic framework for establishing new societies on other worlds. We would be wise to heed what he says." —Robert Zubrin, founder of founder of the Mars Society.
All editions are available at Amazon, Barnes & Noble, and all book vendors, with the ebook priced at $5.99 before discount. The ebook can also be purchased direct from my ebook publisher, ebookit, in which case you don't support the big tech companies and I get a bigger cut much sooner.
Autographed printed copies are also available at discount directly from me (hardback $24.95; paperback $14.95; Shipping cost for either: $5.00). Just email me at zimmerman @ nasw dot org.