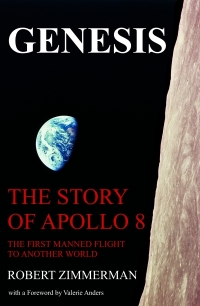 On Christmas Eve 1968 three Americans became the first humans to visit another world. What they did to celebrate was unexpected and profound, and will be remembered throughout all human history. Genesis: the Story of Apollo 8, Robert Zimmerman's classic history of humanity's first journey to another world, tells that story, and it is now available as both an ebook and an audiobook, both with a foreword by Valerie Anders and a new introduction by Robert Zimmerman.
The ebook is available everywhere for $5.99 (before discount) at
amazon
, or direct from my ebook publisher,
ebookit
.
The audiobook is also available at all these vendors, and is also
free with a 30-day trial membership to Audible.
"Not simply about one mission, [Genesis] is also the history of America's quest for the moon... Zimmerman has done a masterful job of tying disparate events together into a solid account of one of America's greatest human triumphs." --San Antonio Express-News
Two stories today illustrate the levels of corruption that now percolate through many fields of science, helped by a willing and sometimes ignorant press.
First, a final report has been issued in the investigation into the fraudulent research of social psychologist Diederik Stapel. Sadly, it appears the report condemns the entire field:

[The investigators] paint an image of a "sloppy" research culture in which some scientists don't understand the essentials of statistics, journal-selected article reviewers encourage researchers to leave unwelcome data out of their papers, and even the most prestigious journals print results that are obviously too good to be true.
Worse, three different universities participated in Stapel's fraud, and never noticed. At least 25 of Stapel's papers have now been retracted.
Then there is this article about an investigation into the lack of scientific merit of a paper that claimed that genetically modified maize caused tumors in rats. Apparently, according to European scientific authorities, the paper had no merit and did not meet the basics of scientific research. Nor was this investigation the first to come to this conclusion.
First, that the paper got published in a peer reviewed journal in the first place says a great deal about that journal's standards. Second, when first published the paper had been condemned immediately by a number of scientists. yet it apparently received tons of adoring press coverage, probably because it provided evidence for the politically correct position that genetically modified agriculture is bad. Both facts suggest that this is another case, similar to that of the climate field, where scientists allowed politics to badly influence their judgement.
All in all, not a good day for science and its reputation.
Readers!
My July fund-raiser for Behind the Black is now over. The support from my readers was unprecedented, making this July campaign the best ever, twice over. What a marvelous way to celebrate the website's tenth anniversary!

Thank you! The number of donations in July, and continuing now at the beginning of August, is too many for me to thank you all personally. Please forgive me by accepting my thank you here, in public, on the website.

If you did not donate or subscribe in July and still wish to, note that the tip jar remains available year round.
Regular readers can support Behind The Black with a contribution via paypal:
If Paypal doesn't work for you, you can support Behind The Black directly by sending your donation by check, payable to Robert Zimmerman, to

Behind The Black
c/o Robert Zimmerman
P.O.Box 1262
Cortaro, AZ 85652