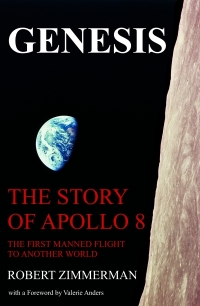 On Christmas Eve 1968 three Americans became the first humans to visit another world. What they did to celebrate was unexpected and profound, and will be remembered throughout all human history. Genesis: the Story of Apollo 8, Robert Zimmerman's classic history of humanity's first journey to another world, tells that story, and it is now available as both an ebook and an audiobook, both with a foreword by Valerie Anders and a new introduction by Robert Zimmerman.
The ebook is available everywhere for $5.99 (before discount) at
amazon
, or direct from my ebook publisher,
ebookit
.
The audiobook is also available at all these vendors, and is also
free with a 30-day trial membership to Audible.
"Not simply about one mission, [Genesis] is also the history of America's quest for the moon... Zimmerman has done a masterful job of tying disparate events together into a solid account of one of America's greatest human triumphs." --San Antonio Express-News
The journal Science today published this detailed look at the cuts that would occur in all the federal government's various science programs should the automatic budget cuts outlined in the sequestration legislation occur on January 2, 2013.
Not surprising, the article includes a great deal of moaning and groaning about the terrible harm the cuts would have on science research should they occur. From the Obama administration:

"The report leaves no question that sequestration would be deeply destructive," a senior Administration official told reporters in a conference call this afternoon. "The Administration does not support [these] indiscriminate, across-the-board cuts."
And then there's this quote from one science organization:
"Today's OMB report confirms the worst," Hunter Rawlings, president of the Association of American Universities, a Washington, D.C.-based group that represents major research campuses, said in a statement. "A budget sequester in January would have a terrible short- and long-term impact on the nation's investments in scientific research and education, investments that are essential for long-term economic growth and prosperity."
There are more such quotes in the article.
The trouble is, this is all hogwash. All the automatic cuts require is an 8.2% reduction in their budgets, which in almost every case will bring the budgets of these agencies back down to what they got in 2007.
Let me repeat that: Sequestration will only reduce the science budget down to numbers equivalent to the 2007 federal budget. I don't remember the United States being a primitive, prehistoric culture with no science research in 2007. Do you?
For example, the enacted budget for the National Institutes of Health (NIH) in 2012 was $30.7 billion. Obama had requested $30.9 billion for 2013. Sequestration will force NIH's 2013 budget down to $28.3 billion, only slightly less than it received in 2007 ($28.9 billion). Hardly a disaster. Similarly, the National Science Foundation (NSF) got $6.98 billion in 2013. Obama requested $7.37 billion. Sequestration would give NSF $5.9 billion, exactly the same amount it got in 2007.
In truth, these cuts are actually quite reasonable, and all the fear-mongering about them should be ignored. And this applies as well to the cuts being proposed for military spending, which are slightly higher (9.4%) but harder devastating.
Readers!
My July fund-raiser for Behind the Black is now over. The support from my readers was unprecedented, making this July campaign the best ever, twice over. What a marvelous way to celebrate the website's tenth anniversary!

Thank you! The number of donations in July, and continuing now at the beginning of August, is too many for me to thank you all personally. Please forgive me by accepting my thank you here, in public, on the website.

If you did not donate or subscribe in July and still wish to, note that the tip jar remains available year round.
Regular readers can support Behind The Black with a contribution via paypal:
If Paypal doesn't work for you, you can support Behind The Black directly by sending your donation by check, payable to Robert Zimmerman, to

Behind The Black
c/o Robert Zimmerman
P.O.Box 1262
Cortaro, AZ 85652