Political journalist Doug Ross yesterday re-posted an essay he had written a decade ago, which had successfully predicted the crime wave we are undergoing today.
In it, he outlined how the growth in 2011 in government anti-poverty and welfare programs — which acted to further tear apart families — was going to lead to what he called "a true Obama Crime Wave" sometime in the early 2020s.
Fact: There are a record number of Americans dependent upon government anti-poverty programs thanks to the Obama Democrats
Fact: Expanded access to welfare and food stamps greatly increases the number of children born to unwed mothers
Fact: Single-parent families correlate to higher crime rates
Conclusion: with the unprecedented increase in welfare, food stamps and unemployment, we will also see an unparalleled increase in violent crime within the next dozen or so years.

Obama and his Democrat sycophants in Congress will have created hundreds of thousands of single-parent families. These kids, born out-of-wedlock, will find themselves trapped in lives of criminality at far higher rates than kids from two-parent families.

Fast forward a dozen years, give or take a couple, and we will see a true Obama Crime Wave. I predict that we will see an unprecedented increase in crime. In fact, you could call it historic.

And the question is not whether it will happen. The question is just how bad it will be.
Ross's prediction in 2011 was of course guaranteed to be right, as good social science research since the early and mid-twentieth century had shown that if you raise children in broken homes, chaos ensues when they reach adulthood.
I think however that Ross and most previous researchers have missed half the equation. Broken homes certainly produce adults who don't know right from wrong, and thus become hardened and violent criminals.

However, broken homes also produce adults who become politicians and lawyers and entertainers and businessmen, and though these individuals might not be violent criminals, they themselves no longer can conceive and put forth policies that encourage the rule of law and a truly just society. We can see this fact in the effort during the past two years by Democratic Party politicians to "defund the police" and to eliminate all bail, thus giving criminals a free rein in the states and cities run by Democrats. These politicians might sincerely believe these policies will reduce crime, but they do so because they themselves no longer have good judgment. They have been raised in a society of broken homes, and carry with them that curse into adulthood.
The worst aspect of this social tragedy is its long term consequences. You can't fix this by simply ending the bad social policies from the past. The adults raised under them still exist, and still do not have the emotional training to build a civilized world, or even maintain a secure two-parent family for their own children. Their children are likely going to be broken as well, no matter what the government policy. Chaos will remain, and it will continue to wreck its havoc for many more decades.
We have truly entered the next dark age, and it will take the painful effort of every mature and properly raised individual to turn things around. And most important, if we succeed in recovering our civilization we all must recognize that this righteous effort will not bear fruit in our lifetimes. It is for the generations to come, possible one to two hundred years in the future.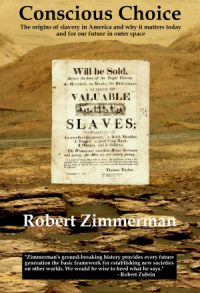 Now available in hardback and paperback as well as ebook!
From the press release: In this ground-breaking new history of early America, historian Robert Zimmerman not only exposes the lie behind The New York Times 1619 Project that falsely claims slavery is central to the history of the United States, he also provides profound lessons about the nature of human societies, lessons important for Americans today as well as for all future settlers on Mars and elsewhere in space.
Conscious Choice: The origins of slavery in America and why it matters today and for our future in outer space
, is a riveting page-turning story that documents how slavery slowly became pervasive in the southern British colonies of North America, colonies founded by a people and culture that not only did not allow slavery but in every way were hostile to the practice.
Conscious Choice
does more however. In telling the tragic history of the Virginia colony and the rise of slavery there, Zimmerman lays out the proper path for creating healthy societies in places like the Moon and Mars.
"Zimmerman's ground-breaking history provides every future generation the basic framework for establishing new societies on other worlds. We would be wise to heed what he says." —Robert Zubrin, founder of founder of the Mars Society.
All editions are available at Amazon, Barnes & Noble, and all book vendors, with the ebook priced at $5.99 before discount. The ebook can also be purchased direct from my ebook publisher, ebookit, in which case you don't support the big tech companies and I get a bigger cut much sooner.
Autographed printed copies are also available at discount directly from me (hardback $24.95; paperback $14.95; Shipping cost for either: $5.00). Just email me at zimmerman @ nasw dot org.