The Sun continues to show a reluctance to come out of its solar minimum. Today NOAA's Space Weather Prediction Center published its monthly graph, showing the sun's developing sunspot cycle in comparison with the consensis prediction made by the solar science community in May 2009. As you can see below, actual sunspot activity remains far below what was predicted by the red line.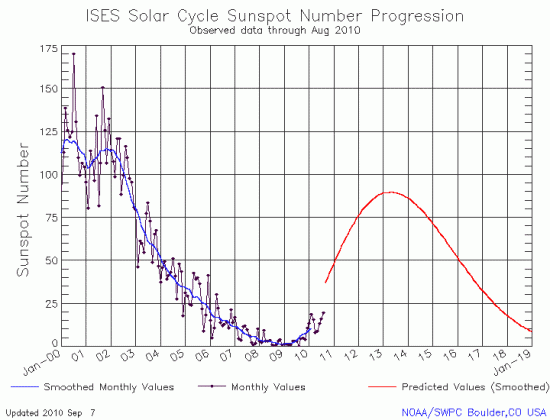 As I noted when I posted the July and August graphs, the Sun's ramp up to solar maximum continues to be far slower and weaker than predicted. After two hundred years of watching a vibrant and strong solar cycle, it appears increasingly likely that we are heading towards some quiet time on the Sun.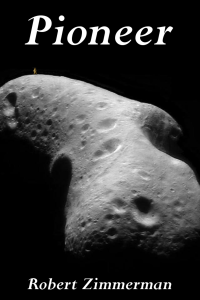 From the press release: From the moment he is handed a possibility of making the first alien contact, Saunders Maxwell decides he will do it, even if doing so takes him through hell and back.
Unfortunately, that is exactly where that journey takes him. The vision that Zimmerman paints of vibrant human colonies on the Moon, Mars, the asteroids, and beyond, indomitably fighting the harsh lifeless environment of space to build new societies, captures perfectly the emerging space race we see today. He also captures in Pioneer the heart of the human spirit, willing to push forward no matter the odds, no matter the cost. It is that spirit that will make the exploration of the heavens possible, forever, into the never-ending future. Available everywhere for $3.99 (before discount) at
amazon
,
Barnes & Noble
, all ebook vendors, or direct from the ebook publisher,
ebookit
. And if you buy it from
ebookit
you don't support the big tech companies and I get a bigger cut much sooner.