As it does every month, NOAA today posted its monthly update of the ongoing sunspot cycle of the Sun. This latest graph, covering the month of September, is posted below the fold.
Not only is the Sun's sunspot production continuing to fizzle, it is fizzling even more than before.

This past month the Sun's production of sunspots dipped again, the third month in a row. In fact, though we are supposed to be in a ramp up to maximum next year, the Sun has actually been in a stall now for the past seven months.
A good way to sense how far below prediction this behavior has been is to compare the red line, which indicates the prediction of the solar scientist community from 2009, with the blue line, which is a smoothed average of the actual sunspot numbers. The curve of that blue line, while initially aiming upwards towards the predicted red line, has in recent months dipped downward, and is even appearing to platform.
Meanwhile, the solar scientists at the Marshall Space Flight Center have adjusted their own prediction for the upcoming solar maximum slightly downward, from a sunspot number of 76 at peak to 75, predicted to occur in the fall of 2013. This adjustment is very slight. We shall see if it holds up.
All in all, the Sun is simply not producing sunspots. We will only know whether that fact has any long term consequences when the maximum has finally passed and we move into the next solar minimum. At that time the question won't be trying to figure out when the next maximum will occur but whether the Sun will even come out of its minimum and begin producing any sunspots at all.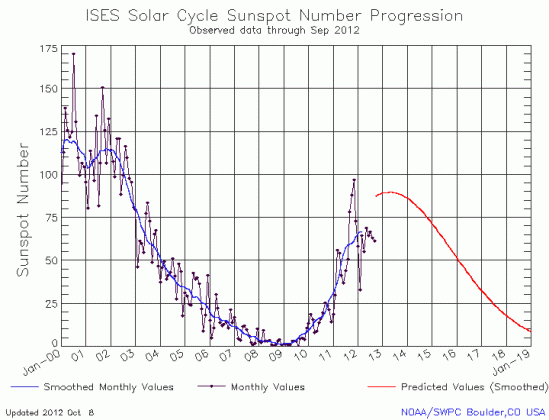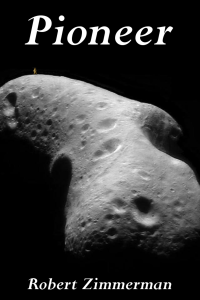 From the press release: From the moment he is handed a possibility of making the first alien contact, Saunders Maxwell decides he will do it, even if doing so takes him through hell and back.
Unfortunately, that is exactly where that journey takes him. The vision that Zimmerman paints of vibrant human colonies on the Moon, Mars, the asteroids, and beyond, indomitably fighting the harsh lifeless environment of space to build new societies, captures perfectly the emerging space race we see today. He also captures in Pioneer the heart of the human spirit, willing to push forward no matter the odds, no matter the cost. It is that spirit that will make the exploration of the heavens possible, forever, into the never-ending future. Available everywhere for $3.99 (before discount) at
amazon
,
Barnes & Noble
, all ebook vendors, or direct from the ebook publisher,
ebookit
. And if you buy it from
ebookit
you don't support the big tech companies and I get a bigger cut much sooner.