Please consider donating to Behind the Black, by giving either a one-time contribution or a regular subscription, as outlined in the tip jar to the right or below. Your support will allow me to continue covering science and culture as I have for the past twenty years, independent and free from any outside influence.
On Monday NOAA posted its monthly update of the solar cycle, showing the sunspot activity for the Sun in August. As I do every month, I am posting it here, below the fold, with annotations to give it context.
The sunspot activity of the Sun in August hovered at the same levels seen in July. Though the month had seen periods of little activity, these were interspersed with many violent flaring sunspots, including one that only yesterday unleashed a powerful X-class flare that is expected to send a coronal mass ejection directly at the Earth and should impact the Earth's magnetic field on September 12. Expect spectacular auroras!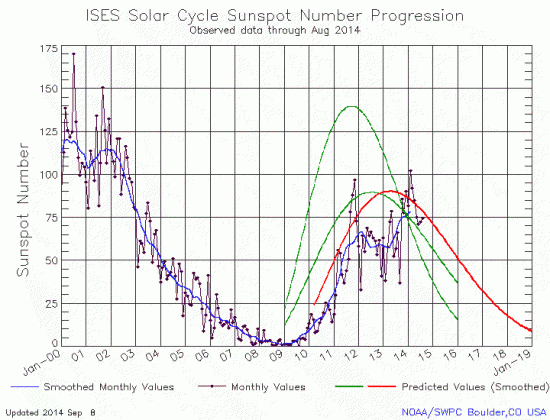 The graph above has been modified to show the predictions of the solar science community. The green curves show the community's two original predictions from April 2007, with half the scientists predicting a very strong maximum and half predicting a weak one. The red curve is their revised May 2009 prediction.
The sun's slow ramp down to solar minimum is doing the solar science community a favor in that it is making this solar maximum resemble more and more their May 2009 prediction, indicated in red. All their prediction appears to have missed was the double-peaked nature of this maximum. Otherwise, it increasingly looks to be right on the money.