Today, with little fanfare, the solar scientists at the Marshall Space Flight Center adjusted slightly downward their prediction for the upcoming solar maximum, from a sunspot number of 73 down to 72. This was the fourth month in a row that they have revised their prediction.
The Marshall scientists do not archive their predictions, which I suspect is a convenient way of preventing people from noticing how much they change them. I however like to archive these revisions. Below is a full list of their changes during the past two years:

January 2011: They predicted a maximum sunspot number of 59 occurring in July 2013.
September 2011: They raised their prediction to 70, moving it forward to May 2013.
October 2011: They upped it again, to 77, moving forward to April 2013.
November 2011: They upped it again, to 89, moving it back to May 2013.
December 2011: They upped it again, to 99, moving it forward to February 2013.
January 2012: They revised it down slightly, to 96, still for February 2013.
Early February 2012: They kept the number at 96, but moved the maximum back to late 2013.
Mid February 2012: They revised the number down to 63, with the peak set for early 2013.
March 2012: They revised the number up to 70.
March 2012: They revised the number down to 59, predicting the peak to arrive in the spring of 2013
April 2012: They revised the number to 60, with the peak in spring 2013.
May 2012: They revised the number up to 61.
June 2012: The maximum sunspot number was now predicted at 60.
September 2012: They made a big revision, raising the prediction up to 76 while delaying the peak to the fall of 2013.
October: 2012: They lowered their prediction down to 75.
November 2012: They again lowered the prediction, down to 73.
December 2012: They lowered the prediction again, to 72.
As one of my regular readers commented, "Not much of a prediction if it changes every month." I should also note that these solar scientists claim on their webpage that
Predicting the behavior of a sunspot cycle is fairly reliable once the cycle is well underway (about 3 years after the minimum in sunspot number occurs).
Since the actual solar minimum occurred in early 2009, we are now almost four years past that minimum. Shouldn't their prediction by now be settling onto a single number instead of changing from month-to-month?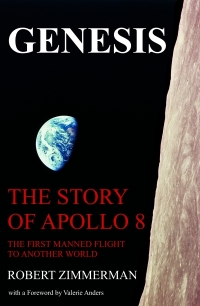 On Christmas Eve 1968 three Americans became the first humans to visit another world. What they did to celebrate was unexpected and profound, and will be remembered throughout all human history. Genesis: the Story of Apollo 8, Robert Zimmerman's classic history of humanity's first journey to another world, tells that story, and it is now available as both an ebook and an audiobook, both with a foreword by Valerie Anders and a new introduction by Robert Zimmerman.
The ebook is available everywhere for $5.99 (before discount) at
amazon
, or direct from my ebook publisher,
ebookit
. If you buy it from
ebookit
you don't support the big tech companies and the author gets a bigger cut much sooner.
The audiobook is also available at all these vendors, and is also
free with a 30-day trial membership to Audible.
"Not simply about one mission, [Genesis] is also the history of America's quest for the moon... Zimmerman has done a masterful job of tying disparate events together into a solid account of one of America's greatest human triumphs."--San Antonio Express-News