Chris Bergin at NASAspaceflight.com today wrote a report on the four companies NASA is subsidizing to build manned capsules. The status of each company tells us something of whether they can eventually provide the United States with a replacement for the shuttle, and do it soon. Let's take a look at each.

Dream Chaser: Being built by Sierra Nevada, this reusable "baby shuttle", launched on an Atlas rocket, is actually derived not from the shuttle design but from the lifting body research NASA performed in the early 1970s. At the moment plans call for the delivery of the first test prototype by December 2011. NASA will do a complete design review in May 2012. When the first test flights will occur remains unclear.
CST-100: This large scale Apollo-like capsule, being built by Boeing, will be capable of carrying up to seven astronauts. It has also been designed to launch on several different rockets, though the Atlas V is considered its primary carrier. In addition to providing NASA with crew ferrying capability, Boeing has an agreement with Bigelow Aerospace to provide ferrying service to its privately built space stations. A variety of drop tests and wind tunnel tests are presently going on, with a parachute test of the capsule set for the spring. The target date for actual operations is 2015.
Blue Origin: Relatively little is known about this capsule, funded and built by amazon.com founder Jeff Bezos. It appears the plans are to also launch it on an Atlas V rocket, though the company appears intent on building its own reusable rocket.
SpaceX's Falcon 9/Dragon capsule: In order to make this reusable cargo carrying capsule man-rated, SpaceX must install a launch abort system to be used during launch to get the capsule safely free from a failing rocket. It appears the first round of testing for this system should begin in the spring of 2012. Meanwhile, the second test flight of Dragon's cargo capability, is set for late this year. That flight will test the capsule's ability to rendezvous with ISS and if all goes well, possibly complete a berthing to the station using the station's robot arm.
From what I can gather, only SpaceX is close to launch, with Boeing not far behind. Sierra Nevada's Dream Chaser is the most interesting concept, however. Though the design appears the most radical, its lifting body shape has already been tested in flight — in suborbital flights by the United States and orbital flights by the Soviet Union — and has been proved to work. If they can get this built, it could be the best privately built vehicle of all to get humans to and from orbit.
Under the present contract arrangements, these four companies are completely in charge of design and construction, with NASA engineers and managers only taking a consulting role. Sadly, there are indications that the upper management at NASA wish to change this arrangement in order to give NASA a greater supervisory role. If that happens, expect development on all four of these manned spaceships to slow significantly.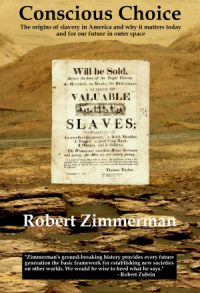 Now available in hardback and paperback as well as ebook!
From the press release: In this ground-breaking new history of early America, historian Robert Zimmerman not only exposes the lie behind The New York Times 1619 Project that falsely claims slavery is central to the history of the United States, he also provides profound lessons about the nature of human societies, lessons important for Americans today as well as for all future settlers on Mars and elsewhere in space.
Conscious Choice: The origins of slavery in America and why it matters today and for our future in outer space
, is a riveting page-turning story that documents how slavery slowly became pervasive in the southern British colonies of North America, colonies founded by a people and culture that not only did not allow slavery but in every way were hostile to the practice.
Conscious Choice
does more however. In telling the tragic history of the Virginia colony and the rise of slavery there, Zimmerman lays out the proper path for creating healthy societies in places like the Moon and Mars.
"Zimmerman's ground-breaking history provides every future generation the basic framework for establishing new societies on other worlds. We would be wise to heed what he says." —Robert Zubrin, founder of founder of the Mars Society.
All editions available at Amazon, Barnes & Noble, and all book vendors. The ebook can be purchased direct from my ebook publisher, ebookit, in which case you don't support the big tech companies and I get a bigger cut much sooner. Note that the price for the ebook, $3.99, goes up to $5.99 on September 1, 2022.
Autographed printed copies are also available at discount directly from me (hardback $24.95; paperback $14.95). Just email me at zimmerman @ nasw dot org.