In January 2017 I posted a graph that showed the total successful rocket launches, by company and nation, from the years 1998 through 2016. That graph allowed me to note some interesting trends, of which the following were the three most significant:
First, 2016 was the worst year for the Russian rocket industry in decades. In fact, their launch total of only 18 might be the fewest Russian launches in a year since the beginnings of the space race.

Second, China has been aggressively ramping up its launch rate, and in 2016 moved clearly into the top tier of space-faring nations. Their prediction that they are aiming for 30 launches in 2017 is further evidence that this effort is not a temporary thing.

Third, the United States is clearly transitioning away from a government owned and operated rocket industry to one owned and operated by the private sector. Since the retirement of the space shuttle, the federal government has not launched a single rocket that it designed, built, and owns. Instead, every payload put in space by the U.S. has been put there by a private sector rocket.
Below the fold is a new graph. It now includes 2017, but also goes back to 1980, which I think makes a good starting point for the true beginning of the modern the rocket industry. In December 1979 Arianespace successfully completed the first launch of Ariane 1, beginning its effort to build a commercial rocket that would capture market share in the communication satellite industry. In 1980 India launched its first rocket. And in 1981 the space shuttle began flying.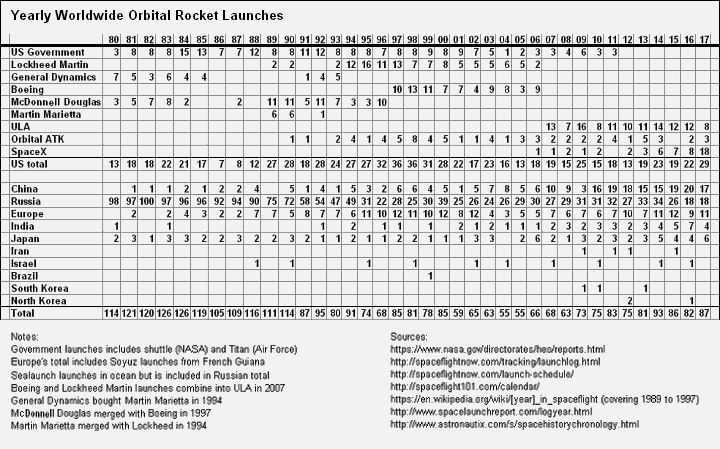 This new graph suggests that the three most important trends I noted last year are continuing. While Russia showed some recovery from its terrible year in 2016, its launch totals continued to be far below their yearly average since the mid-1990s. Russia had predicted they would complete 30 launches in 2017, and assuming they do not have more failures in 2018 I expect them to try to meet that goal this coming year. Their problem of course is avoiding launch failures, something Russia has, as yet, failed to avoid. [Update: One of my readers, mkent, pointed out that I had miscounted the Russian launch total for 2017, and after checking I discovered he was correct. Russian only managed to tie SpaceX with 18 launches, not 20. I have corrected the graph accordingly.]
The graph does reveal one interesting historical detail about Russia. During the Soviet era that nation routinely launched as many rockets per year as the entire world does today. Many of those launches however were short term lightweight spy satellites, designed to remain in orbit only a month or so before they would send a capsule back to Earth with film for developing. Such satellites haven't been practical or economical for decades, however, superseded by high resolution digital cameras placed in higher orbits that could beam their images down to Earth and stay in orbit for years. Thus, the need to launch so often for this purpose no longer exists.
The seventeen successful launches by China put it smack dab in the center of that nation's average number of yearly launches since 2010, but this was about half the number of launches they had predicted they would complete. Because of two launch failures in the summer, including the failure of their biggest rocket (Long March 5 on its second launch), China shut down all launches for the rest of the summer and early fall. This pause prevented them from achieving their goal of 30 launches for the year, though the large number of launches they completed in the year's last three months (10) suggests that they will make it happen in 2018.
And the U.S. continued its transition from a government-owned and controlled rocket industry to one owned and controlled by private companies. This is highlighted by SpaceX's 18 launches in 2017, which is historic in that it is the most launches in a single year by any private company ever in the entire history of space. Prior to the 1970s there was no private rocket industry. Every rocket built and launched was essentially designed by the U.S. government with different parts, engines, and stages contracted out to different companies. Moreover, before 1970 there were only a tiny handful of commercial launches. In the 1970s these numbers rose, and privately owned rockets began to launch these new private geosynchronous commercial satellites, but the numbers never rose so high as to match SpaceX's total in 2017.
SpaceX has said it hopes to complete between 30 and 40 launches in 2018. Like Russia and China, I think they can do it, as long as nothing goes wrong. This is rocket science, however, so no one should be surprised if something does go wrong.
Nonetheless, SpaceX's unprecedented success, including its demonstration that reusable rockets are possible and economical, has unquestionably reshaped the world's entire launch industry. More important, I think this reshaping will end up powering the colonization of the solar system in the coming decades, something that governments have said they wanted to do for the past half century and have utterly failed to accomplish.
The graph reveals other interesting details. The total of U.S. launches in 2017 was also its highest, as a nation, since the short boom in satellite communications in the late 1990s. That boom went bust when it turned out that cell phones were a more economical choice. Whether today's boom continues remains an open question, but I personally think it is more well grounded, providing a wider range of needed products that are not going away. I expect the launch rate to continue to rise because of this.
The graph also shows how the space shuttle essentially destroyed the American rocket industry in the 1980s. Before the shuttle the U.S. had two rocket companies launching commercial and government satellites (General Dynamics and McDonnell Douglas) as well as several government-operated rockets (the Titan and Scout for example) whose various components were built by a number of private companies. With the shuttle's arrival all these alternatives died. And though General Dynamics and McDonnell Douglas managed to recover somewhat after Reagan declared the shuttle would no longer do any commercial launches after the Challenger accident in 1986 (with McDonnell Douglas doing the best), things were never the same. The corporate culture of these older big space companies did not know how to cut costs and compete, and the competition coming from Russia (which was much cheaper), Arianespace (which had captured the market lost when the shuttle began operating), and the new company Orbital Sciences (now Orbital ATK) was simply too much. By the mid-1990s there was a consolidation as these companies struggled, with a final consolidation in 2007 resulting in ULA.
Other details from the graph: India's launch numbers declined in 2017, mostly because of a launch failure in the summer. Officials at ISRO however have said repeatedly that they not only intend to double their launches to 10 or 12 in 2018, they are pushing hard to capture a larger share of the commercial satellite industry. They plan to make their more powerful GSLV family of rockets operational in 2018, which will then give them the tools to make these promises more likely.
Japan also saw a resurgence in launches, something I did not expect, especially because, as far as I have found, their rockets continue to be very expensive and thus not very competitive on the commercial launch market. Still, there have been a variety of stories all year that suggest this nation is looking for ways to revamp its launch industry to become more competitive. Their expected first launch in 2018, the second test flight of their SS-520 smallsat rocket, designed to launch smallsats quickly and cheaply, will give us an indication whether this revamping is real or not.
Finally, the arrival of a variety of private American smallsat launch rockets, hoped for in 2017, did not happen. Rocket Lab twice attempted to complete an orbital launch, with the first failing and the second getting scrubbed into 2018. Vector did some suborbital test launches, as promised, but their first orbital launches might not occur for at least another year. Interorbital had seemed to be moving steadily toward the first launch of its smallsat Neptune rocket in April, but then everything stalled, with no word when this company will move forward.
Despite the lack of any orbital launches in 2017, I expect there will be some real action from the smallsat rocket industry in 2018. Stay tuned. This area of the rocket industry might be the most interesting of all to watch.
In addition to the arrival of smallsat rockets, expect the following significant events in 2018:
The first launch of Falcon Heavy
The first manned launches of SpaceX's Dragon and Boeing's Starliner capsules
The first privately funded unmanned missions to the Moon
The first manned suborbital flights of Blue Origin's New Shepard capsule
China next lunar unmanned mission, plus the next launch of its large Long March 5 rocket
Overall, I think the odds are very good that the launch industry will top more than 100 launches in 2018, the first time that will have happened since the fall of the Soviet Union. Unlike then, however, the high numbers won't be because of a lot of Soviet launches of out-of-date spy satellites, but because of the arrival of a diverse and very competitive international launch/satellite industry.
Indeed, the future for space exploration appears very bright at this moment.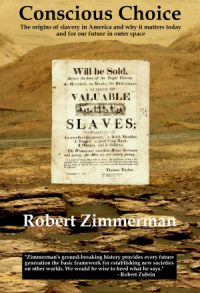 Now available in hardback and paperback as well as ebook!
From the press release: In this ground-breaking new history of early America, historian Robert Zimmerman not only exposes the lie behind The New York Times 1619 Project that falsely claims slavery is central to the history of the United States, he also provides profound lessons about the nature of human societies, lessons important for Americans today as well as for all future settlers on Mars and elsewhere in space.
Conscious Choice: The origins of slavery in America and why it matters today and for our future in outer space
, is a riveting page-turning story that documents how slavery slowly became pervasive in the southern British colonies of North America, colonies founded by a people and culture that not only did not allow slavery but in every way were hostile to the practice.
Conscious Choice
does more however. In telling the tragic history of the Virginia colony and the rise of slavery there, Zimmerman lays out the proper path for creating healthy societies in places like the Moon and Mars.
"Zimmerman's ground-breaking history provides every future generation the basic framework for establishing new societies on other worlds. We would be wise to heed what he says." —Robert Zubrin, founder of founder of the Mars Society.
All editions are available at Amazon, Barnes & Noble, and all book vendors, with the ebook priced at $5.99 before discount. All editions can also be purchased direct from the ebook publisher, ebookit, in which case you don't support the big tech companies and the author gets a bigger cut much sooner.
Autographed printed copies are also available at discount directly from me (hardback $24.95; paperback $14.95; Shipping cost for either: $5.00). Just email me at zimmerman @ nasw dot org.