Even though Dearborn, Michigan lost a $100,000 court suit for falsely arresting and denying Christians their freedom of religion during the annual Dearborn Arab Festival, it appears the police in Dearborn have not learned their lesson. Not only do they do nothing to prevent the throwing by Muslim children of rocks, bottles, garbage, eggs, and concrete at a group of Christians who are merely standing on the sidewalk holding signs, the police eventually force the Christians to leave. As one man tells the police, "You're rewarding riotous behavior. You're teaching that crowd that if they riot, they're rewarded by that rioting by kicking out the people they don't want."
Watch the video below the fold. It is very important to note again that these Christians were doing nothing but standing there with their signs on a public street. The response of the Muslim crowd is hardly in accordance with American principles of tolerance, and reveals a savagery and hate that is horrifying. And the willingness of the police to allow the violence is despicable.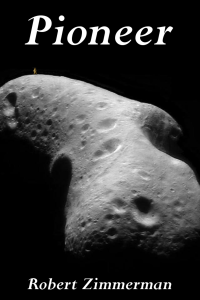 From the press release: From the moment he is handed a possibility of making the first alien contact, Saunders Maxwell decides he will do it, even if doing so takes him through hell and back.
Unfortunately, that is exactly where that journey takes him. The vision that Zimmerman paints of vibrant human colonies on the Moon, Mars, the asteroids, and beyond, indomitably fighting the harsh lifeless environment of space to build new societies, captures perfectly the emerging space race we see today. He also captures in Pioneer the heart of the human spirit, willing to push forward no matter the odds, no matter the cost. It is that spirit that will make the exploration of the heavens possible, forever, into the never-ending future. Available everywhere for $3.99 (before discount) at
amazon
,
Barnes & Noble
, all ebook vendors, or direct from the ebook publisher,
ebookit
. And if you buy it from
ebookit
you don't support the big tech companies and I get a bigger cut much sooner.