Readers!
My annual birthday-month fund-raising drive for Behind the Black
is now on-going. Not only do your donations help pay my bills, they give me the freedom to speak honestly about science and culture,
instead of being forced to write it as others demand.
Please consider donating by giving either a one-time contribution or a regular subscription, as outlined in the tip jar below.
Regular readers can support Behind The Black with a contribution via paypal:
If Paypal doesn't work for you, you can support Behind The Black directly by sending your donation by check, payable to Robert Zimmerman, to

Behind The Black
c/o Robert Zimmerman
P.O.Box 1262
Cortaro, AZ 85652

You can also support me by buying one of my books, as noted in the boxes interspersed throughout the webpage. And if you buy the books through the ebookit links, I get a larger cut and I get it sooner.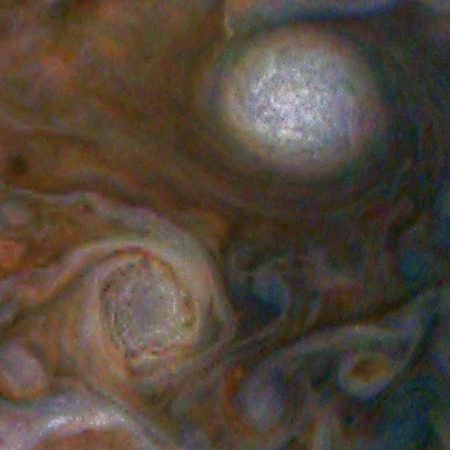 Cool image time! The image on the right, taken by Juno during its fifth close fly-by of Jupiter in late March and cropped to post here, shows two of the major storms in what I think is one of Jupiter's main large mid-latitude belts. The full image, posted below in a significantly reduced form but annotated by me to indicate the location of the inset, covers a much larger area, but I have specifically zoomed into these two storms to highlight how large these storms are as well as how much detail is hidden within them.
In the bright spot in particular (officially called A6 by planetary scientists) you can see a hint of the existence of innumerable mini-storms. Juno's camera does not have the resolution to image these smaller storms, but this image suggests that the gas giant's atmosphere is far far far more complex than we can yet imagine.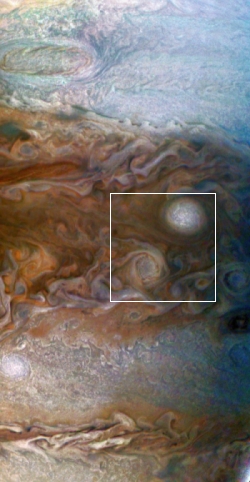 Unfortunately, these images do not provide a scale. Based on a global image taken by Juno in October 2016 and matching the gas giant's major horizontal bands, the annotated full image strip on the left appears to cover a little less than a third of Jupiter, from about 10 degrees latitude to about 50 degrees latitude. From this I estimate that if we put the Earth in the inset image it would probably be only slightly larger than the image itself, which means these two storms would cover most of one hemisphere.
In other words, the mini-storms inside the big bright oval are still larger than the biggest hurricanes on Earth, and they are packed together inside a much larger planet-sized storm.
What should fill us with even more awe is that this only covers a very thin slice of the top of Jupiter's deep atmosphere. The planet itself is about 89,000 miles in diameter, more than ten times larger than Earth. The depth of its atmosphere is not really known, but it must be deeper than several Earths, piled on top of each other. In that depth there must be many atmospheric layers, each thicker and denser than the one above, and each with its own weather systems and complexities.
It will take centuries of research, including the development of new engineering capable of accessing this place, to even begin to map out its meteorology. And this is only one gas giant, of what we now know must be millions and millions throughout the galaxy.
If we have the nerve and daring, the human race has the opportunity to go out there and never be bored. There will always be something unknown to discover.