It's that time again! As I do every month, it's time to post Space Weather Prediction Center's monthly updated graph showing the Sun's solar cycle sunspot activity. The graph itself can be seen below the fold.
After five months of quickly increasing sunspot activity, the Sun in December finally took a rest, with the sunspot numbers dropping down to almost exactly the solar activity scientists had expected at this time, according to their May 2009 prediction. Interestingly, this might be the first time since I began tracking the solar cycle in 2008 that the prediction actually matched that month's activity.

The solar scientists at the Marshall Space Flight Center have responded to these numbers and once again adjusted their prediction for the next solar maximum, adjusting their sunspot number prediction (last adjusted in mid-December) downward slightly from 99 to 96, with maximum still occurring in February 2013. This change doesn't make that much difference, as it will still make the upcoming maximum the weakest in 80 years.
The real story here remains the question of what the Sun will do after 2013. Will sunspot activity shut down, as some solar scientists predict, or will the solar cycle continue as it has for the past four hundred years? Stay tuned to find out.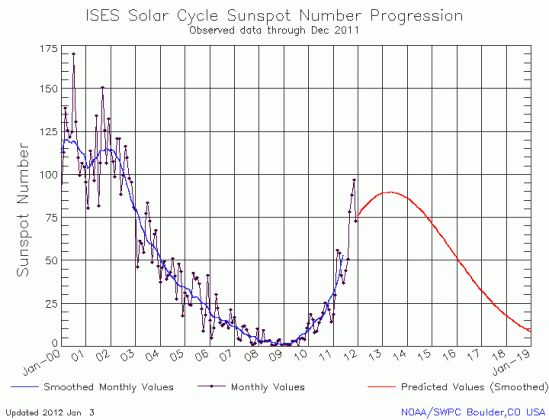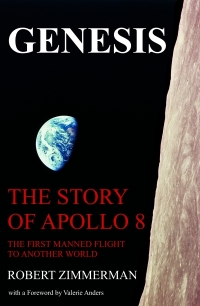 On Christmas Eve 1968 three Americans became the first humans to visit another world. What they did to celebrate was unexpected and profound, and will be remembered throughout all human history. Genesis: the Story of Apollo 8, Robert Zimmerman's classic history of humanity's first journey to another world, tells that story, and it is now available as both an ebook and an audiobook, both with a foreword by Valerie Anders and a new introduction by Robert Zimmerman.
The ebook is available everywhere for $5.99 (before discount) at
amazon
, or direct from my ebook publisher,
ebookit
. If you buy it from
ebookit
you don't support the big tech companies and the author gets a bigger cut much sooner.
The audiobook is also available at all these vendors, and is also
free with a 30-day trial membership to Audible.
"Not simply about one mission, [Genesis] is also the history of America's quest for the moon... Zimmerman has done a masterful job of tying disparate events together into a solid account of one of America's greatest human triumphs."--San Antonio Express-News