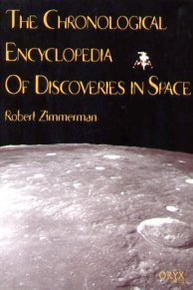 After being in print for twenty years, the Chronological Encyclopedia of Discoveries in Space, covering everything that was learned on every single space mission in the 20th century, has finally gone out of print.
I presently have my last four hardback copies available for sale. The book sold new for about $90. To get your own autographed copy of this now rare collector's item, please send a $120 check (which includes shipping) payable to Robert Zimmerman to
Behind The Black, c/o Robert Zimmerman
P.O.Box 1262
Cortaro, AZ 85652

"Useful to space buffs and generalists, comprehensive but readable, Bob Zimmerman's Encyclopedia belongs front and center on everyone's bookshelf." -- Mike Collins, Apollo 11 astronaut
"The Chronological Encylopedia of Discoveries in Space is no passionless compendium of information. Robert Zimmerman's fact-filled reports, which cover virtually every spacecraft or probe to have ventured into the heavens, relate the scientific and technical adventure of space exploration enthusiastically and with authority." -- American Scientist
NOAA today posted its monthly update of the solar cycle, showing the Sun's sunspot activity in April. As always, I am posting it here, with annotations to give it context, as I have done since 2010.
The graph above has been modified to show the predictions of the solar science community. The green curves show the community's two original predictions from April 2007, with half the scientists predicting a very strong maximum and half predicting a weak one. The red curve is their revised May 2009 prediction.
Though sunspot activity increased in April, it remained well below the predicted numbers from the 2009 prediction, as has sunspot activity generally done for this entire solar cycle.
Note that if you extrapolate the red curve of the 2009 prediction down to its end you find that the solar minimum was predicted to occur sometime after 2020. Based on the rate of activity we have seen for the past year, it is very possible that the minimum will occur sooner, and will likely last longer.
But then again, the sun does what the sun wants to do. We don't exactly understand the root causes of the solar cycle, and can only watch it unfold time after time as we try to peel back its mysteries.