Today NOAA's Space Weather Prediction Center released its monthly graph of the Sun's solar cycle sunspot activity. Posted below, it shows the Sun's activity finally leaping upward in September, after several months of less than expected performance.
It is interesting to see how the sun's rising sunspot activity for the past year has followed a consistent fluctuating pattern, whereby a sudden monthly jump in sunspots is then followed by several months of decline. If this pattern repeats itself again, we should expect to see the numbers ease off again in October and November.
Regardless, the higher sunspot counts for September are more in line with past predictions. In fact, the solar scientists at the Marshall Space Flight Center have increased their prediction for the time and intensity for the peak of the sun's maximum. Last month they had called for a peak in May 2013 with a sunspot number of 70. Now, they are predicting the peak will come in April 2013 with a number of 77. They note however that even this higher number will result in the weakest maximum in more than a hundred years.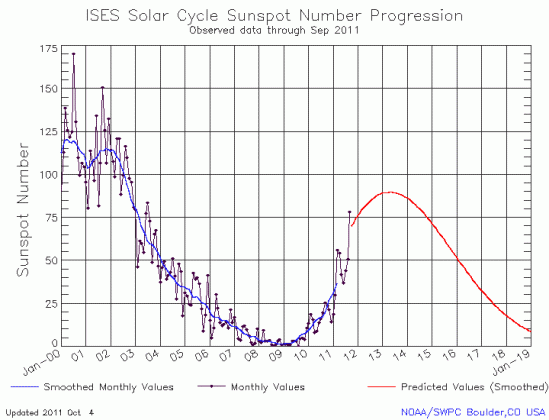 Please consider donating to Behind the Black, by giving either a one-time contribution or a regular subscription, as outlined in the tip jar below. Your support will allow me to continue covering science and culture as I have for the past twenty years, independent and free from any outside influence.
Regular readers can support Behind The Black with a contribution via paypal:
If Paypal doesn't work for you, you can support Behind The Black directly by sending your donation by check, payable to Robert Zimmerman, to

Behind The Black
c/o Robert Zimmerman
P.O.Box 1262
Cortaro, AZ 85652