On June 4 NOAA's Space Weather Prediction Center posted its monthly update of the ongoing sunspot cycle of the Sun. Now that I am back from Nevada, I've had a chance to take a look at it, and have posted the new graph for April below the fold.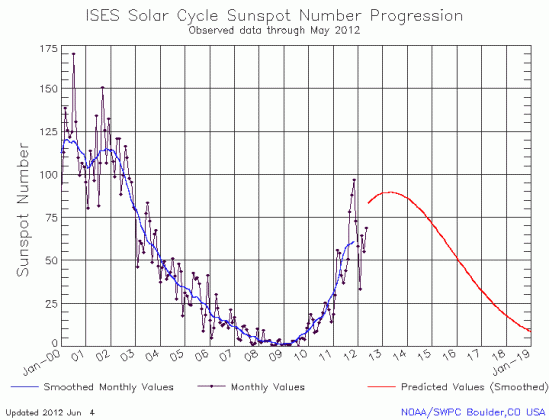 Though sunspot activity in May showed a slight increase, it nowhere matched the activity levels predicted by scientists (as indicated by the red line). Though the Sun's activity has ramped up, and is even today sending two coronal mass ejections directly towards the Earth, the Sun is also continuing to struggle to produce sunspots.
Meanwhile, the solar scientists at the Marshall Space Flight Center have not revised their prediction for the peak of the upcoming solar maximum, despite the weak numbers in May. They presently predict a sunspot number of 60 at maximum, the peak arriving in the spring of 2013. (The Marshall prediction uses a different sunspot numbering system than the graph above, which is why the solar maximum peak prediction for each is different, 60 compared to about 90. However, the actual activity predicted by both is really the same.) This prediction would make this upcoming solar maximum "the smallest sunspot cycle in about 100 years," as they say on their website.
If the trends shown by the graph above continue, however, it is likely that the peak at maximum will be far weaker than this prediction, making it the weakest in several centuries. Some solar scientists are even predicting that the Sun might follow this weak maximum with the first Grand Minimum in five hundred years, giving us a period of decades where there are no sunspots at all. And the last time that happened, in the 1600s, the Earth experienced the Little Ice Age, a time when there were years with no summers at all, resulting in crop failures and famine.
Maybe global warming might not be such a bad thing after all!
Readers!
Please consider donating to Behind the Black, by giving either a one-time contribution or a regular subscription, as outlined in the tip jar below. Your support will allow me to continue covering science and culture as I have for the past twenty years, independent and free from any outside influence.
Your support is even more essential to me because I keep this site free from advertisements and do not participate in corrupt social media companies like Google, Twitter, and Facebook. I depend wholly on the direct support of my readers.
You can provide that support to Behind The Black with a contribution via Patreon or PayPal. To use Patreon, go to my website there and pick one of five monthly subscription amounts, or by making a one-time donation. For PayPal click one of the following buttons:

If Patreon or Paypal don't work for you, you can support Behind The Black directly by sending your donation by check, payable to Robert Zimmerman, to


Behind The Black
c/o Robert Zimmerman
P.O.Box 1262
Cortaro, AZ 85652