Please consider donating to Behind the Black, by giving either a one-time contribution or a regular subscription, as outlined in the tip jar to the right or below. Your support will allow me to continue covering science and culture as I have for the past twenty years, independent and free from any outside influence.
NOAA'S latest monthly update of the Sun's ongoing ramp up to solar maximum has just been published and, as I do every month, I have posted the latest graph, with annotation, below the fold.
As the Sun had been somewhat active in November, I had expected the graph line to rise. It has, but not by very much.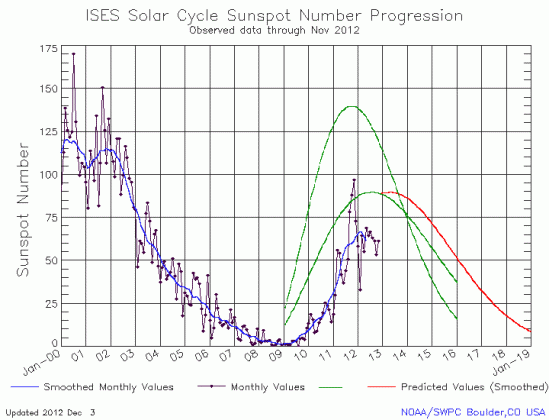 As I did in October, I have also added to the graph in green the original predictions of the solar scientist community from April 2007. Scientists were then split between two groups, one believing the next maximum would be very strong and the other believing it would be weak. Both were wrong. In 2009 the scientists abandoned the strong prediction while simultaneously shifting the predicted moment of peak maximum for the weak prediction to early in 2013.
While the Sun showed an increase in sunspots in November, the numbers are still quite low and far below the prediction. Furthermore, an extrapolation of these numbers, which admittedly is not a good way to predict the future, still suggests that the Sun's maximum has already passed and that the the ramp down to its next solar minimum has begun.