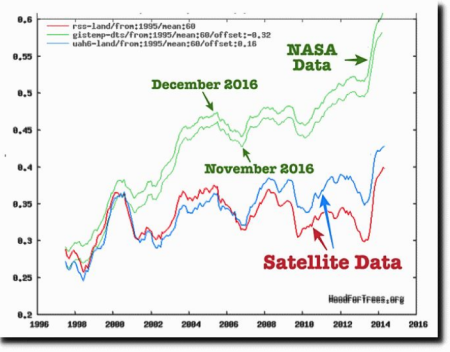 Last week there was the another Conservative Political Action Conference (CPAC) in Washington. One presentation there by several important climate skeptics outlined in detail the data tampering that has been going on at an increasingly outrageous manner at both NOAA and NASA in recent years. The slides presented by Tony Heller (available here [pdf]), many of which I have highlighted previously here at Behind the Black, are especially educational and damning.
To the right is just one of Heller's slides, the one that I find the most damning of all. It shows how the surface data issued by NASA's Goddard Institute of Space Studies (GISS), the two green lines, does not match the satellite data at all. While the satellite data shows no warming this entire century, the GISS data shows steady rising in the surface data. Other slides by Heller show that this rise comes solely from data adjustments and the extrapolation of imagined temperature data in places where no data exists, neither of which has been explained in any manner by the scientists at GISS.
What is most damning however is the change Heller documents between GISS's November 2016 and December 2016 data sets. For reasons that are simply unjustified by any scientific measure, GISS somehow found it necessary to adjust its entire data set upward in one month about 0.03 of a degree. The only reason I can find for such a change in such a short period of time is a desire by the scientists at GISS to create the illusion that the climate is warming, and warming fast. They don't have any real data to show this, so they make it up.
Make sure you look at all of Heller's slides [pdf]. It is also definitely worthwhile to spend the time to watch the entire CPAC presentation, available at the first link above.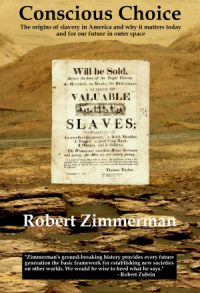 Now available in hardback and paperback as well as ebook!
From the press release: In this ground-breaking new history of early America, historian Robert Zimmerman not only exposes the lie behind The New York Times 1619 Project that falsely claims slavery is central to the history of the United States, he also provides profound lessons about the nature of human societies, lessons important for Americans today as well as for all future settlers on Mars and elsewhere in space.
Conscious Choice: The origins of slavery in America and why it matters today and for our future in outer space
, is a riveting page-turning story that documents how slavery slowly became pervasive in the southern British colonies of North America, colonies founded by a people and culture that not only did not allow slavery but in every way were hostile to the practice.
Conscious Choice
does more however. In telling the tragic history of the Virginia colony and the rise of slavery there, Zimmerman lays out the proper path for creating healthy societies in places like the Moon and Mars.
"Zimmerman's ground-breaking history provides every future generation the basic framework for establishing new societies on other worlds. We would be wise to heed what he says." —Robert Zubrin, founder of founder of the Mars Society.
All editions are available at Amazon, Barnes & Noble, and all book vendors, with the ebook priced at $5.99 before discount. The ebook can also be purchased direct from my ebook publisher, ebookit, in which case you don't support the big tech companies and I get a bigger cut much sooner.
Autographed printed copies are also available at discount directly from me (hardback $24.95; paperback $14.95; Shipping cost for either: $5.00). Just email me at zimmerman @ nasw dot org.