Readers!
My annual birthday-month fund-raising drive for Behind the Black
is now on-going. Not only do your donations help pay my bills, they give me the freedom to speak honestly about science and culture,
instead of being forced to write it as others demand.
Please consider donating by giving either a one-time contribution or a regular subscription, as outlined in the tip jar below.
Regular readers can support Behind The Black with a contribution via paypal:
If Paypal doesn't work for you, you can support Behind The Black directly by sending your donation by check, payable to Robert Zimmerman, to

Behind The Black
c/o Robert Zimmerman
P.O.Box 1262
Cortaro, AZ 85652

You can also support me by buying one of my books, as noted in the boxes interspersed throughout the webpage. And if you buy the books through the ebookit links, I get a larger cut and I get it sooner.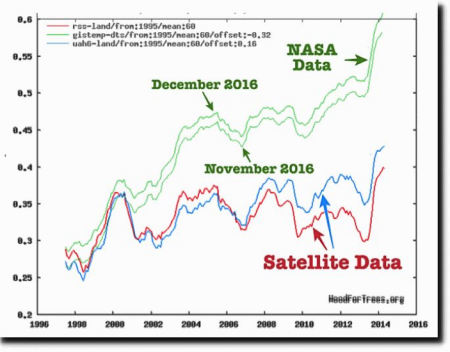 Last week there was the another Conservative Political Action Conference (CPAC) in Washington. One presentation there by several important climate skeptics outlined in detail the data tampering that has been going on at an increasingly outrageous manner at both NOAA and NASA in recent years. The slides presented by Tony Heller (available here [pdf]), many of which I have highlighted previously here at Behind the Black, are especially educational and damning.
To the right is just one of Heller's slides, the one that I find the most damning of all. It shows how the surface data issued by NASA's Goddard Institute of Space Studies (GISS), the two green lines, does not match the satellite data at all. While the satellite data shows no warming this entire century, the GISS data shows steady rising in the surface data. Other slides by Heller show that this rise comes solely from data adjustments and the extrapolation of imagined temperature data in places where no data exists, neither of which has been explained in any manner by the scientists at GISS.
What is most damning however is the change Heller documents between GISS's November 2016 and December 2016 data sets. For reasons that are simply unjustified by any scientific measure, GISS somehow found it necessary to adjust its entire data set upward in one month about 0.03 of a degree. The only reason I can find for such a change in such a short period of time is a desire by the scientists at GISS to create the illusion that the climate is warming, and warming fast. They don't have any real data to show this, so they make it up.
Make sure you look at all of Heller's slides [pdf]. It is also definitely worthwhile to spend the time to watch the entire CPAC presentation, available at the first link above.