The science team of Lunar Reconnaissance Orbiter released a spectacular image of the lunar crater Aristarchus on Christmas Day, looking sideways at the crater's west wall. The image was taken from only 16 miles above the Moon's surface. You can see the full image here.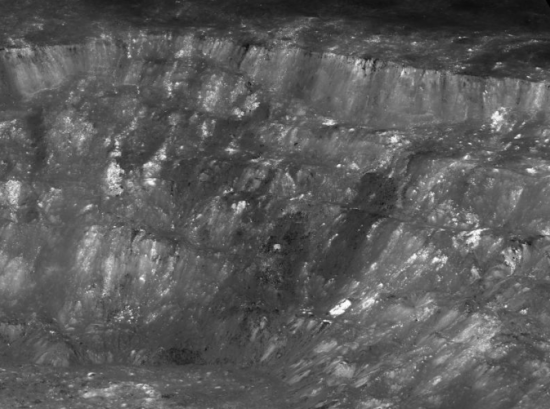 Two things to note from this image:

The terraced nature of the crater's slopes. These terraces were not put there by Chinese farmers. Instead, they show us the slumping downward over time of the crater floor after the initial impact. The various terraces are the result of "the sagging blocks of the pre-impact lunar crust." In other words, each terrace provides a window into a different epoch of the Moon's geological history.
The crater wall has a remarkable range of bright and dark material. In several places dark volcanic material coated the wall as it tumbled downward. In other areas there are extremely bright deposits, fresh material more recently excavated from beneath the surface. Both types suggest that the geology of Aristarchus is complex, and would provide lunar geologists a wealth of information about the history of the Moon.
Readers!
My July fund-raising campaign for 2021 has now ended. Thank you all for your donations and subscriptions. While this year's campaign was not as spectacular as last year's, it was the second best July campaign since I began this website.
And if you have not yet donated or subscribed, and you think what I write here is worth your support, you can still do so. I depend on this support to remain independent and free to write what I believe, without any pressure from others. Nor do I accept advertisements, or use oppressive social media companies like Google, Twitter, and Facebook. I depend wholly on the direct support of my readers.
If you choose to help, you can contribute via Patreon or PayPal. To use Patreon, go to my website there and pick one of five monthly subscription amounts, or by making a one-time donation. For PayPal click one of the following buttons:

If Patreon or Paypal don't work for you, you can support Behind The Black directly by sending your donation by check, payable to Robert Zimmerman, to


Behind The Black
c/o Robert Zimmerman
P.O.Box 1262
Cortaro, AZ 85652