The science team of Lunar Reconnaissance Orbiter released a spectacular image of the lunar crater Aristarchus on Christmas Day, looking sideways at the crater's west wall. The image was taken from only 16 miles above the Moon's surface. You can see the full image here.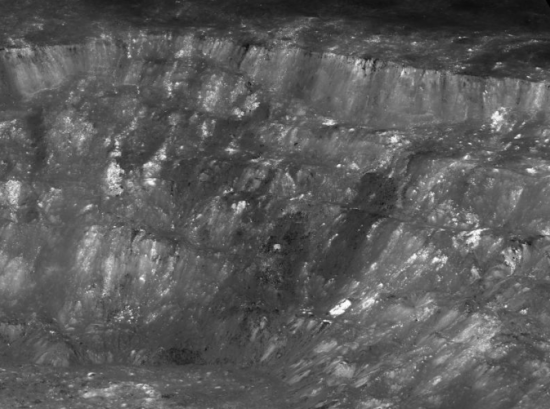 Two things to note from this image:

The terraced nature of the crater's slopes. These terraces were not put there by Chinese farmers. Instead, they show us the slumping downward over time of the crater floor after the initial impact. The various terraces are the result of "the sagging blocks of the pre-impact lunar crust." In other words, each terrace provides a window into a different epoch of the Moon's geological history.
The crater wall has a remarkable range of bright and dark material. In several places dark volcanic material coated the wall as it tumbled downward. In other areas there are extremely bright deposits, fresh material more recently excavated from beneath the surface. Both types suggest that the geology of Aristarchus is complex, and would provide lunar geologists a wealth of information about the history of the Moon.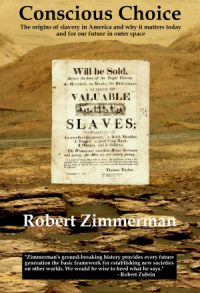 From the press release: In this ground-breaking new history of early America, historian Robert Zimmerman not only exposes the lie behind The New York Times 1619 Project that falsely claims slavery is central to the history of the United States, he also provides profound lessons about the nature of human societies, lessons important for Americans today as well as for all future settlers on Mars and elsewhere in space.
Conscious Choice: The origins of slavery in America and why it matters today and for our future in outer space
, is a riveting page-turning story that documents how slavery slowly became pervasive in the southern British colonies of North America, colonies founded by a people and culture that not only did not allow slavery but in every way were hostile to the practice.
Conscious Choice
does more however. In telling the tragic history of the Virginia colony and the rise of slavery there, Zimmerman lays out the proper path for creating healthy societies in places like the Moon and Mars.
"Zimmerman's ground-breaking history provides every future generation the basic framework for establishing new societies on other worlds. We would be wise to heed what he says." —Robert Zubrin, founder of founder of the Mars Society.
Available everywhere for $3.99 (before discount) at Amazon, Barnes & Noble, and all ebook vendors, or direct from the ebook publisher, ebookit. And if you buy it from ebookit you don't support the big tech companies and I get a bigger cut much sooner.