Last night, during a Black Lives Matter protest, five policeman were killed and nine people (seven cops) were wounded by rooftop sniper fire. One shooter was killed, after police learned that "he wanted to kill white people, especially white officers."
This was clearly a terrorist attack, aimed very specifically at the police. It was clearly inspired and instigated by the hate being expressed during this election year by leftists and by the very bigoted Black Lives Matter movement, which really only cares about black people, and gets offended if you try to tell them that all lives matter.
Five years ago shortly after the Tucson shootings that badly injured Congresswoman Gabby Giffords, I noted in disgust the inflammatory language of the left. Even as they were demanding more civility from conservatives, they were also demanding the murder of conservatives. At that time I called on them to tone down their rhetoric.
This behavior must stop. Violent and angry rhetoric can and will cause violence. And it probably has, considering the fact that a large number of the random violent acts in recent years have actually been committed by deranged individuals with liberal, not conservative, leanings. This is not to say that I blame the left for this violence, but that the left has as much of a responsibility as the right to think carefully about what it says, before it says it. Otherwise, they might find that they have made their less rational followers more angry than they ever imagined, or can control.

Or as Michael York says to his NAZI friend at the end of this scene from the 1972 movie, Cabaret. "You still think you can control them?"
Sadly, in the five years since I have seen no effort at all by the left to tone down its rhetoric. If anything, they have notched it up, repeatedly expressing hate against conservatives and calling for increased acts of violence and oppression against them. Thus, we should not be surprised by last night's attacks in Dallas. Nor should be be surprised if it gets worse in the coming months, as we get closer to the election. While the right wants to win in the voting booth, too many people on the left now seem to consider the idea of elections inconvenient and a problem, and also consider violence as a reasonable response should they lose at the polls.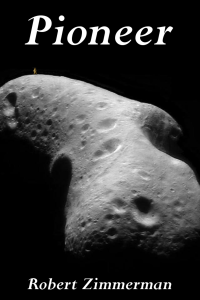 From the press release: From the moment he is handed a possibility of making the first alien contact, Saunders Maxwell decides he will do it, even if doing so takes him through hell and back.
Unfortunately, that is exactly where that journey takes him. The vision that Zimmerman paints of vibrant human colonies on the Moon, Mars, the asteroids, and beyond, indomitably fighting the harsh lifeless environment of space to build new societies, captures perfectly the emerging space race we see today. He also captures in Pioneer the heart of the human spirit, willing to push forward no matter the odds, no matter the cost. It is that spirit that will make the exploration of the heavens possible, forever, into the never-ending future. Available everywhere for $3.99 (before discount) at
amazon
,
Barnes & Noble
, all ebook vendors, or direct from the ebook publisher,
ebookit
. And if you buy it from
ebookit
you don't support the big tech companies and I get a bigger cut much sooner.