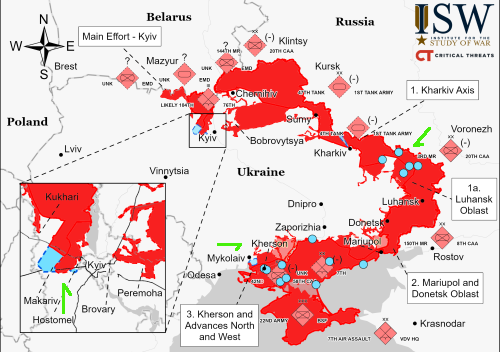 The Ukraine War as of March 24, 2022. Click for full map.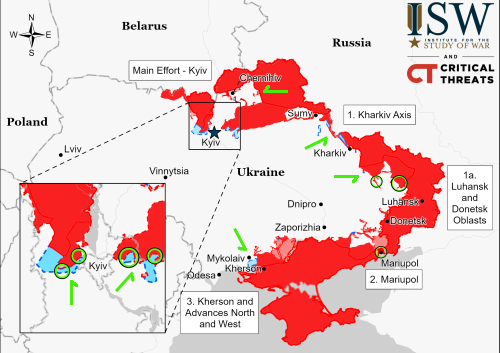 The Ukraine War as of March 31, 2022. Click for full map.
Another week has passed in the Ukraine war, and with it we begin to see increasing evidence that not only has the Russian invasion stalled, but that the Ukraine is beginning to push back with more and more effectiveness.
The two maps to the right are from the Institute for the Study of War (ISW) and have been simplified, annotated, and reduced to post here. The top was from ISW's March 24, 2022 report, the bottom from its report today. The dark red areas are regions either controlled by Russia or areas of confirmed Russian advance. The light red indicates areas the Russians claim to control without confirmation. The blue areas mark areas retaken by the Ukraine in battle. The circles indicate areas of recent heavy fighting.
The green arrows I have added to both maps indicate areas where there have been changes since the week prior. Like last week, the arrows point almost entirely to areas where Russian control has ebbed, either because the Russians have chosen to retreat, or because Ukrainian forces have pushed them out. The summary from ISW is succinct:

Ukrainian forces conducted several local counterattacks around Kyiv, in northeastern Ukraine, and toward Kherson on March 31, successfully pressuring Russian forces and seeking to disrupt ongoing Russian troop rotations. Ukrainian forces northwest of Kyiv pushed Russian forces north of the E-40 highway and will likely assault Russian-held Bucha and Hostomel in the coming days. Ukrainian forces exploited limited Russian withdrawals east of Brovary to retake territory across Kyiv and Chernihiv Oblasts. Ukrainian forces likely conducted counterattacks toward Sumy in the past 24 hours as well, though ISW cannot independently confirm these reports. Finally, Ukrainian forces conducted limited counterattacks in northern Kherson Oblast. Russian forces only conducted offensive operations in Donbas and against Mariupol in the last 24 hours and did not make any major advances.
The Mariupol situation is interesting in that for weeks ISW expected Russia to capture the city within days. Not only has this not happened, ISW no longer makes this prediction. Last night I used Google maps to compare the territory marked as under Russian control with the satellite view of the city, and was shocked to discover that almost all the captured terrain is parkland. Russia has actually taken control of very little of Mariupol's urban terrain. Russian continues to make very very slow gains in this street fighting, but at the present pace it could take much longer than anyone expected for it to capture the city.
All told, it appears that the tide of the war has shifted toward the Ukraine. Whether that trend continues is of course not guaranteed, but since the Ukraine is defending its home while Russia is the invader, I would not put much money on the invader. While the Ukraine people might not have been interested in fighting Russia before, its entire population now has good cause to fight, and their blood is up. Even if Russia should now call for a peace settlement, the Ukraine might not be interested until it has pushed Russia back a lot more, maybe even entirely.
One important note to my readers: I am using ISW's maps for this analysis. I strongly recommend that you stop depending on the anecdotal news reports coming from the press, and read ISW's daily reports instead. They will give you the larger context, based not on one story or another (possibly ginned up for propaganda by either side), but the overall situation, based on many reports from many sources.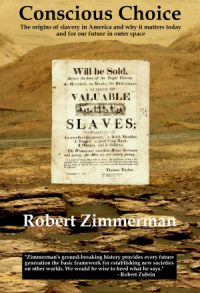 Now available in hardback and paperback as well as ebook!
From the press release: In this ground-breaking new history of early America, historian Robert Zimmerman not only exposes the lie behind The New York Times 1619 Project that falsely claims slavery is central to the history of the United States, he also provides profound lessons about the nature of human societies, lessons important for Americans today as well as for all future settlers on Mars and elsewhere in space.
Conscious Choice: The origins of slavery in America and why it matters today and for our future in outer space
, is a riveting page-turning story that documents how slavery slowly became pervasive in the southern British colonies of North America, colonies founded by a people and culture that not only did not allow slavery but in every way were hostile to the practice.
Conscious Choice
does more however. In telling the tragic history of the Virginia colony and the rise of slavery there, Zimmerman lays out the proper path for creating healthy societies in places like the Moon and Mars.
"Zimmerman's ground-breaking history provides every future generation the basic framework for establishing new societies on other worlds. We would be wise to heed what he says." —Robert Zubrin, founder of founder of the Mars Society.
All editions are available at Amazon, Barnes & Noble, and all book vendors, with the ebook priced at $5.99 before discount. The ebook can also be purchased direct from my ebook publisher, ebookit, in which case you don't support the big tech companies and I get a bigger cut much sooner.
Autographed printed copies are also available at discount directly from me (hardback $24.95; paperback $14.95; Shipping cost for either: $5.00). Just email me at zimmerman @ nasw dot org.