Readers!
My annual birthday-month fund-raising drive for Behind the Black
is now on-going. Not only do your donations help pay my bills, they give me the freedom to speak honestly about science and culture,
instead of being forced to write it as others demand.
Please consider donating by giving either a one-time contribution or a regular subscription, as outlined in the tip jar below.
Regular readers can support Behind The Black with a contribution via paypal:
If Paypal doesn't work for you, you can support Behind The Black directly by sending your donation by check, payable to Robert Zimmerman, to

Behind The Black
c/o Robert Zimmerman
P.O.Box 1262
Cortaro, AZ 85652

You can also support me by buying one of my books, as noted in the boxes interspersed throughout the webpage. And if you buy the books through the ebookit links, I get a larger cut and I get it sooner.
For the past five years, I have been noting on this webpage the large uncertainties that still exist in the field of climate science. Though we have solid evidence of an increase of carbon dioxide in the atmosphere, we also have no idea what the consequences of that increase are going to be. It might cause the atmosphere to warm, or it might not. It might harm the environment, or it might instead spur plant life growth that will invigorate it instead. The data remains inconclusive. We really don't even know if the climate is truly warming, and even if it is, whether CO2 is causing that warming.
While government scientists at NASA and NOAA are firmly in the camp that claims increasing carbon dioxide will cause worldwide disastrous global warming, their own data, when looked at coldly, reveals that they themselves don't have sufficient information to make that claim. In fact, they don't even have sufficient information to claim they know whether the climate is warming or cooling! My proof? Look at the graph below, produced by NOAA's own National Centers for Environmental Information.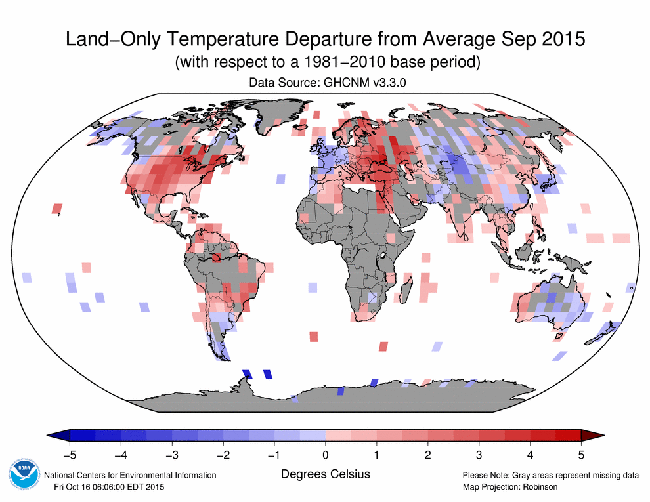 The graph, which the NOAA website allows you to create for yourself, shows the places on land where the temperature in September 2015 was either above or below the baseline temperature average, established by data from the period from 1981 to 2010. If a region was hotter than that long term average, it is showed in red tones. If it was cooler, it is shown in blue tones.
A lot of red there, ain't there? September must have been the hottest month in recorded history!
Not! Note the large areas of grey, as well as the little note near the bottom of the graph: "Please note: Gray areas represent missing data." In other words, except for Europe and the United States and a scattering of other well-developed regions, the land data is quite limited These government scientists have almost no data for either the north or south poles and much of Africa. In fact, most of their best data is confined to urban areas, regions that are prone to increased temperature readings merely because their urban environment, a phenomenon climate scientists have even named as the urban heat island effect. Stations in urban areas show increased heat because they are often near a lot of asphalt and heat-producing equipment, making the place seem warmer than it actually is.
Moreover, they are very vague about the meaning of the square data points. Do they represent one weather station or many? In the U.S. I would assume that there are many data-gathering stations within each square. In places like Greenland and Antarctica, however, I suspect that each square represents only one station. That means that in these two places their data is based on a very small number of stations, 9 for Antarctica and 5 for Greenland, all strung out along the coasts with no interior data points.
My point here is not to disprove the theory of human-caused global warming. My point is to note the limited nature of the data, and how this makes coming to any conclusion at this time difficult if not impossible. Satellite data fills in many of the blank areas of this graph, but it also shows absolutely no warming for almost the last 20 years. According to all global warming models, however, the climate should have continued to warm during this period because the CO2 in the atmosphere was also increasing.
The models were wrong however. Or to put in another way, the science remains uncertain. Keep this in mind the next time you hear a politician demand you give up your rights and freedoms in order to prevent global warming.