According to the Union of Concerned Scientists (UCS), the reusable X-37B — in orbit at the moment and expected to return to Earth in the near future — has no compelling use.
"It's hard to think of what could make that mission compelling," [UCS scientist Laura] Grego told SPACE.com. "It doesn't protect you from antiaircraft fire, and the element of surprise doesn't really work in your favor if you're launching on Atlas V [rocket]."
In reading this article, it is fascinating how completely unimaginative the scientists from the Union of Concerned Scientists seem. Nor do I find this surprising. For the last few decades this organization has opposed almost every new aerospace engineering project that might actually have made possible the human exploration of space. It's as if these scientists feared new ideas and grand achievement. Sadly, the UCS had great influence with policy makers in the 1970s, 1980s, and 1990s, and thus helped limit the American government's space program capabilities during that time period.
Fortunately, the UCS's influence has waned in recent years. Though the American government space program might be dying, it is because of budget limits and a lack of leadership by the Obama administration, not the unimaginative thinking of the UCS. Furthermore, their lack of imagination — which once seemed so culturally dominant — seems to no longer influence the rest of society. The happy result is the creative innovation coming from many new private aerospace companies.
The UCS meanwhile reminds me of an old curmudgeon, who won't keep quiet but everyone still ignores.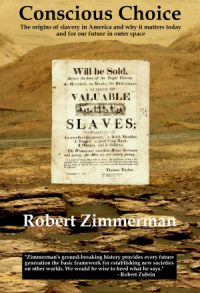 Now available in hardback and paperback as well as ebook!
From the press release: In this ground-breaking new history of early America, historian Robert Zimmerman not only exposes the lie behind The New York Times 1619 Project that falsely claims slavery is central to the history of the United States, he also provides profound lessons about the nature of human societies, lessons important for Americans today as well as for all future settlers on Mars and elsewhere in space.
Conscious Choice: The origins of slavery in America and why it matters today and for our future in outer space
, is a riveting page-turning story that documents how slavery slowly became pervasive in the southern British colonies of North America, colonies founded by a people and culture that not only did not allow slavery but in every way were hostile to the practice.
Conscious Choice
does more however. In telling the tragic history of the Virginia colony and the rise of slavery there, Zimmerman lays out the proper path for creating healthy societies in places like the Moon and Mars.
"Zimmerman's ground-breaking history provides every future generation the basic framework for establishing new societies on other worlds. We would be wise to heed what he says." —Robert Zubrin, founder of founder of the Mars Society.
All editions are available at Amazon, Barnes & Noble, and all book vendors, with the ebook priced at $5.99 before discount. The ebook can also be purchased direct from my ebook publisher, ebookit, in which case you don't support the big tech companies and I get a bigger cut much sooner.
Autographed printed copies are also available at discount directly from me (hardback $24.95; paperback $14.95; Shipping cost for either: $5.00). Just email me at zimmerman @ nasw dot org.