Please consider donating to Behind the Black, by giving either a one-time contribution or a regular subscription, as outlined in the tip jar to the right or below. Your support will allow me to continue covering science and culture as I have for the past twenty years, independent and free from any outside influence.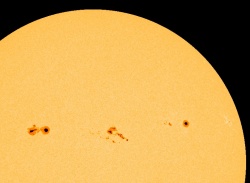 As it does every month, NOAA's Space Weather Prediction Center released today its monthly updated graph of the Sun's solar cycle sunspot activity. I have posted the July graph below.
For the first time in four months there was a increase in sunspot activity, albeit small. The sun has been even more active in August, as shown by the flurry of sunspots on its face from August 1 (shown on the left) and the August 8 solar flare, the most powerful produced in four years.
This monthly graph, however, continues to suggest that the next solar maximum will be very very weak, even weaker than the most up-to-date predictions for the next solar maximum.