In response to the revelation earlier this week by NASA administrator Jim Bridenstine that the agency is considering replacing SLS with commercial rockets for Orion's first unmanned lunar test mission in June 2020, the swamp in Washington quickly rallied to SLS's defense.
Not surprisingly, porkmeister Senator Richard Shelby (R-Alabama) led the charge:
"While I agree that the delay in the SLS launch schedule is unacceptable, I firmly believe that SLS should launch the Orion," Sen. Richard Shelby (R-Ala.) said in a statement to SpaceNews.
This was followed by statements from industry groups and other lawmakers, all supporting SLS. Next came Bridenstine himself, who emphasized his strong support of SLS at a conference yesterday, then issued a memo to NASA employees reiterating that support.
As far as I can tell, the only way SLS will eventually die is when private companies begin doing things that SLS is designed for, for less money and faster, and for profit. And that won't happen if this Washington swamp has its say. Rather than see an American success, these cronies have made it clear in the past decade that they will work to squelch any such success if poses any threat to their boondoggles. And it appears now that they are moving to block Bridenstine's suggestion for that first Orion flight.
Whether this new big government campaign against private enterprise succeeds however is not clear.

SLS is still running behind schedule. It is very likely it will not be ready for that June 2020 launch. In a few weeks Bridenstine's review will come out, and it is likely going to show that a combination of private rockets can do the job, on time and for less money. Faced with further SLS delays, Bridenstine will likely have the political clout to enable him to make the switch, especially because he clearly intends to also continue his public and strong support for SLS for later launches. Such statements will act to placate these naysayers
Get that first Orion launch up using private rockets however and game will shift. It will then become very obvious that SLS is unneeded, and too expensive. While the corrupt political class in Washington will likely continue pouring taxpayer money into this black hole for years to come, the political winds will steadily begin shifting against it. And this shift will become even more evident should SpaceX succeed in getting its Starship/Super Heavy rocket operational in the next few years. At that point even Washington lawmakers will have to bow to reality and shut SLS down.
What will they then do? Don't fool yourself. The pork and corruption will not cease, as long as these people remain in power. They will find a new boondoggle they can fund that will use these cheaper private rockets. Gateway immediately comes to mind. It won't get us back to the Moon, but it will give lawmakers a big space project which will allow them to funnel money to their big old space contractors like Lockheed Martin and Boeing.
Worse, it will act to capture the new commercial companies, forcing them to work within the government's bankrupt framework. "You want those big government contracts SpaceX? Then you better reconsider flying any private manned flights to the lunar surface. Do that, and we might decide to give our business to Blue Origin or ULA."
The result will likely be that we shall be stymied in space, while China, India, and others begin its real exploration. Gateway will likely take as long to build as SLS, meaning it won't be operational and in orbit around the Moon until the 2030s, at the earliest. And even then it doesn't get us to the surface. All it does is let us circle the Moon and watch as the Chinese colonize it.
This is the America of the 21st century. It has less to do with freedom and a can-do spirit and more to do with keeping the cronies in power in Washington, be they government employees or the contractors that work hand-in-glove with them.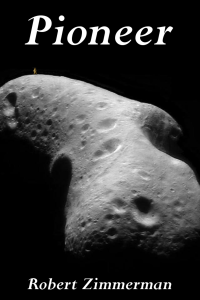 From the press release: From the moment he is handed a possibility of making the first alien contact, Saunders Maxwell decides he will do it, even if doing so takes him through hell and back.
Unfortunately, that is exactly where that journey takes him. The vision that Zimmerman paints of vibrant human colonies on the Moon, Mars, the asteroids, and beyond, indomitably fighting the harsh lifeless environment of space to build new societies, captures perfectly the emerging space race we see today. He also captures in Pioneer the heart of the human spirit, willing to push forward no matter the odds, no matter the cost. It is that spirit that will make the exploration of the heavens possible, forever, into the never-ending future. Available everywhere for $3.99 (before discount) at
amazon
,
Barnes & Noble
, all ebook vendors, or direct from the ebook publisher,
ebookit
. And if you buy it from
ebookit
you don't support the big tech companies and I get a bigger cut much sooner.