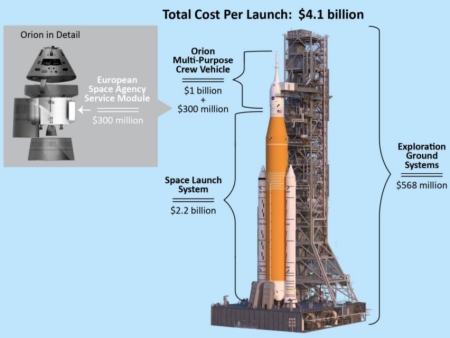 The expected real per launch cost of SLS and Orion
The big news in the mainstream press today is the planned rollout from the Vehicle Assembly Building (VAB) of NASA's SLS rocket this evening in preparation for its dress rehearsal fueling and countdown planned for April 3rd.
This article by Newsweek is very typical. It glows with facts lauding SLS's gigantic size and the monumental systems designed to slowly transport it the four miles from the VAB to the launchsite.
At a height of 322 feet (ft), making it taller than the 305ft Statue of Liberty, the SLS will be the largest rocket to move to a launchpad since the Saturn V launched on its last mission in 1973, when it carried the Skylab space station into orbit around Earth. Its size has seen NASA dub it a Mega-Moon rocket.

NASA says that the four-mile journey from the Vehicle Assembly Building to the launch pad at NASA's Kennedy Space Center in Florida, where the SLS was recently adorned with the NASA logo, will take between 6 and 12 hours. It will be carried on the back of NASA's 6.6-million-pound crawler vehicle. [emphasis mine]
If that April 3rd countdown dress rehearsal goes well, SLS will be rolled back to the VAB and then prepped for its first launch, presently scheduled tentatively for May '22, though more likely in June or July.
For NASA the rollout today is somewhat of a relief. SLS was originally supposed to launch in 2015, making it seven years behind schedule. It has also been enormously expensive, costing close to $30 billion to build, if one does not count the $20 billion cost of the Orion capsule it carries. That the agency finally has this rocket assembled and almost ready to launch, after so many delays and cost overruns, means that NASA might finally be able to prove it is a reality, not simply a boondoggle designed by Congress to funnel cash through NASA to their constituents.
The Newsweek article however strangely ignores the launchpad stacking of another equally gigantic rocket that occurred yesterday. In fact, this Newsweek article actually appears to make believe this other rocket doesn't even exist. For example, the highlighted sentence above is utterly wrong. SLS will not be the largest rocket on a launchpad since the Saturn-5.
SpaceX's Starship/Superheavy is not only larger (taller by seventy-three feet) and more powerful, it has already been stacked on its launchpad three times, the first time in August '21, the second time for Elon Musk's update on the project's status in early February, and the third time only yesterday.
And while it will take 6 to 12 hours to roll SLS to the pad, SpaceX was able to get Starship/Superheavy stacked on its launchpad in less than an hour. While the full move from its assembly building took longer, the overall faster pace at SpaceX makes SLS seem like it was built in slow motion. SLS is seven years behind schedule and has cost $30 billion. Starship/Superheavy has only been under development now for five years, for a cost less than $7 billion.
Yesterday's stacking of Starship/Superheavy is in preparation for more fueling and tank pressure tests over the next few weeks. Musk had said the company would be ready to launch this rocket by the end of March, but will now not be able to do so because the federal government continues to delay approval of the environmental reassessment of its Boca Chica launch site. This article from today describing the rocket's upcoming test program also contained this very ominous quote for the people in the Boca Chica region:
With the Kennedy Space Center (KSC) confirmed to be Starship's East Coast launch site, work is now in full swing in preparing two areas of the Space Coast to cater for SpaceX's monster rocket.

SpaceX's Roberts Road facility has cleared a vast area of land next to its Falcon 9 facility to prepare for constructing a Starship build site. However, they are wasting no time utilizing the area, with the fabrication of the launch tower sections already taking place.
Musk in his February 10th update had warned that if the Biden administration delays or blocks launches at Boca Chica, SpaceX is fully prepared to shift Starship/Superheavy operations to Florida. It appears the company has begun doing so. The resulting loss of Starship/Superheavy launches, even if only temporary, will be an economic blow for the south Texas region that will be hard to measure.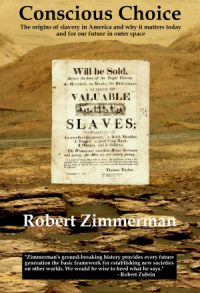 Now available in hardback and paperback as well as ebook!
From the press release: In this ground-breaking new history of early America, historian Robert Zimmerman not only exposes the lie behind The New York Times 1619 Project that falsely claims slavery is central to the history of the United States, he also provides profound lessons about the nature of human societies, lessons important for Americans today as well as for all future settlers on Mars and elsewhere in space.
Conscious Choice: The origins of slavery in America and why it matters today and for our future in outer space
, is a riveting page-turning story that documents how slavery slowly became pervasive in the southern British colonies of North America, colonies founded by a people and culture that not only did not allow slavery but in every way were hostile to the practice.
Conscious Choice
does more however. In telling the tragic history of the Virginia colony and the rise of slavery there, Zimmerman lays out the proper path for creating healthy societies in places like the Moon and Mars.
"Zimmerman's ground-breaking history provides every future generation the basic framework for establishing new societies on other worlds. We would be wise to heed what he says." —Robert Zubrin, founder of founder of the Mars Society.
All editions are available at Amazon, Barnes & Noble, and all book vendors, with the ebook priced at $5.99 before discount. The ebook can also be purchased direct from my ebook publisher, ebookit, in which case you don't support the big tech companies and I get a bigger cut much sooner.
Autographed printed copies are also available at discount directly from me (hardback $24.95; paperback $14.95; Shipping cost for either: $5.00). Just email me at zimmerman @ nasw dot org.