X-37B has successfully passed the 270 day milestone in its now extended mission.
Lots of people have speculated about the military's plans for the X-37B. I think the Air Force is actually telling us in this quote:

"This is a test vehicle to prove the materials and capabilities, to put experiments in space and bring them back and check out the technologies," Richard McKinney, deputy undersecretary of the Air Force for space programs, told Air Force Times in an interview after the first X-37B landed. "My words to others who might read anything else into that is, 'Just listen to what we're telling you,' " he said. "This is, pure and simple, a test vehicle so we can prove technologies and capabilities."
The X-37B gives the Air Force the ability to launch a new instrument into space, fly there for a period of time to see how it works in that hostile environment, then return it safely to Earth for further testing. And believe me, this capability is not to be treated lightly. For example, in building their space station Mir, the Russians had no way to bring large materials and instruments back to Earth. They were thus badly hampered in finding out what was wrong when something failed, as they had no way to get it home to give it more rigorous testing than could be done in space.
Furthermore, when I went to Russia to interview cosmonauts and engineers for my book, Leaving Earth, they repeatedly complained about the U.S.'s insistence that Mir be de-orbited without using the shuttle to bring back parts of its hull and superstructure. "When else," they would tell me, "will we get the opportunity to test materials that have been exposed to space for almost two decades?"
The reason these Russians wanted the shuttle to do this, however, was because their Soyuz spacecraft couldn't. The Soyuz capsule has very little return cargo capacity, while the Progress freighter, which burns up in the atmosphere when its lifespan has ended, can bring nothing home. It was this lack that limited what could be learned from many experiments on Mir.
Thus, the flexibility the X-37B gives the Air Force is priceless. Too bad our civilian NASA program — which had initiated the X-37 program and then abandoned it to the Air Force — doesn't have that capability.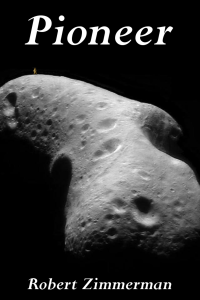 From the press release: From the moment he is handed a possibility of making the first alien contact, Saunders Maxwell decides he will do it, even if doing so takes him through hell and back.
Unfortunately, that is exactly where that journey takes him. The vision that Zimmerman paints of vibrant human colonies on the Moon, Mars, the asteroids, and beyond, indomitably fighting the harsh lifeless environment of space to build new societies, captures perfectly the emerging space race we see today. He also captures in Pioneer the heart of the human spirit, willing to push forward no matter the odds, no matter the cost. It is that spirit that will make the exploration of the heavens possible, forever, into the never-ending future. Available everywhere for $3.99 (before discount) at
amazon
,
Barnes & Noble
, all ebook vendors, or direct from the ebook publisher,
ebookit
. And if you buy it from
ebookit
you don't support the big tech companies and I get a bigger cut much sooner.