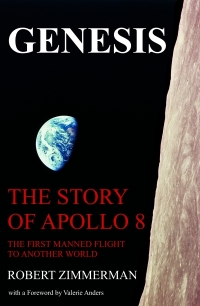 On Christmas Eve 1968 three Americans became the first humans to visit another world. What they did to celebrate was unexpected and profound, and will be remembered throughout all human history. Genesis: the Story of Apollo 8, Robert Zimmerman's classic history of humanity's first journey to another world, tells that story, and it is now available as both an ebook and an audiobook, both with a foreword by Valerie Anders and a new introduction by Robert Zimmerman.
The ebook is available everywhere for $5.99 (before discount) at
amazon
, or direct from my ebook publisher,
ebookit
.
The audiobook is also available at all these vendors, and is also
free with a 30-day trial membership to Audible.
"Not simply about one mission, [Genesis] is also the history of America's quest for the moon... Zimmerman has done a masterful job of tying disparate events together into a solid account of one of America's greatest human triumphs." --San Antonio Express-News
This week we had a number of really ugly examples of the hate the left has for anyone who might dare express an opinion that might suggest even the slightest support for President Donald Trump.
But then, how is this week different from any other week since Trump was elected president in 2016?
The top example however is how Judge Jeanine Pirro was treated when she appeared on the The View. I have embedded the video below. You must force yourself to watch. It is painful and ugly, but the hate and very clear close-mindedness of those who disagreed with her, especially from Whoopie Goldberg, illustrates well the terrible state we are in.


Pirro was a guest on this show. Does anyone remember what the word "guest" stands for, and how one is supposed to treat such a person? It is very clear that Goldberg and her leftist allies on The View do not.
Pirro cannot finish practically one sentence before she is interrupted and attacked, and then thrown off the show because she dared, dared to disagree with the leftwing partisan Democrats in charge. She wanted to defend Trump from the slanders being thrown against him, false slanders of racism that the left loves to throw but have no basis in fact. Trump might be coarse. He might be a fighter. But a careful calm review of everything he has done, in the past, since his campaign began for president, and since he took office, shows no evidence of bigotry.
It is not permitted however to make this case in the modern intellectual world. You cannot, and if you dare, the dominate leftist culture will do whatever it can to shut you down. Consider for example what happened this week to actor Mark Duplass. I have no idea who he is, or what parts he has played that gives him fame. However, this week he had the nerve to express, in a tweet, some sympathetic words about conservative Ben Shapiro.
Within hours a twitter mob (and that's what twitter is, a mob) descended upon him, accusing him of supporting a white supremacist, even though Ben Shapiro happens to be an orthodox Jew. Within 24 hours Duplass was forced to retract his tweet. It is simply forbidden for someone on the left to say a nice thing about a conservative, mainly because, to the left today, every conservative is a white supremacist, a bigot, and a racist, and therefore must be silenced, with violence if necessary.
These stories are only two in an increasingly violent and hateful atmosphere of cultural oppression. It is only getting worse. Scott Adams, author of Dilbert, said it best in one of his recent video posts.
I'm actually considering voting for the first time, and I wouldn't even be voting for candidates. I would just be voting for a side. I would just say 'Republican' — and I'm not a Republican. It's not even about policy [or] anything. It would be about pure self-defense because I would want the safest situation for the country.

Here's the 'Get Out The Vote' slogan that I think is the strongest for Republicans: 'They're coming for you next.' You know it's true. They are coming for you next. If you want to be safe, then you want to keep the system in tact as long as possible. [emphasis mine]
I have embedded Adams' video post below, just so you can see how calmly but forcefully he expresses this fear. Watch. Take it seriously. Adams appears, unlike too many Americans, to be making an attempt to come to grips with the reality that one of our political parties in America wants to destroy all opposition to it, and that party must be stopped, for his, and our, own personal safety.
Readers!
My July fund-raiser for Behind the Black is now over. The support from my readers was unprecedented, making this July campaign the best ever, twice over. What a marvelous way to celebrate the website's tenth anniversary!

Thank you! The number of donations in July, and continuing now at the beginning of August, is too many for me to thank you all personally. Please forgive me by accepting my thank you here, in public, on the website.

If you did not donate or subscribe in July and still wish to, note that the tip jar remains available year round.
Regular readers can support Behind The Black with a contribution via paypal:
If Paypal doesn't work for you, you can support Behind The Black directly by sending your donation by check, payable to Robert Zimmerman, to

Behind The Black
c/o Robert Zimmerman
P.O.Box 1262
Cortaro, AZ 85652