Because I have in my later years developed a minor case of chronic asthma, I make quarterly visits to a lung specialist to take a basic lung function test to monitor the progress of my workout regimen plus medicines. This began two years ago when the asthma was first diagnosed, forcing me to take puffs of an inhaler twice each day, in the morning and evening.
My long term goal is to get off these meds, but to do so I need to improve the numbers in this quarterly check-up.
Today was my appointment for the first checkup in 2020. I get to the doctor's office and, not surprisingly, cannot enter without letting them take my temperature and confirm that I have no cough or cold. I expected this, since a doctor's office is one of the most likely places to catch a disease from others, and with the COVID-19 panic dominating society, they need to be sure everyone is uninfected before allowing them in.
I don't object to these precautions. I just wonder why they didn't do such testing last year, when we were having the worst flu season in decades, killing far more people than the Wuhan virus. This contradiction once again illustrates the irrationality of the COVID-19 response.
The office was empty, obviously because many people have cancelled their regular checkups out of a media-induced terror.
When it comes time for my checkup, the doctor's medical assistant started going through the normal preliminaries, taking my blood pressure, pulse, etc. However, he then tells me that he will not be doing the lung function test, as is normal.
"What?" I say. "That's the prime reason I'm here. It gives us data for measuring my progress."

The assistant explained that because of COVID-19, their office manager had stopped such tests.
"Since when is an office manager a doctor?"
The assistant smiled amiably, "You can ask the doctor if I can give you the test, and if he says yes we'll do it."
When my doctor entered the room a few minutes later I demanded to be given the test. He then explained that he can't do it, or check my lungs with his stethoscope, because the governor of Arizona just a couple of days ago had sent out an edict forbidding such unessential procedures, and my doctor considers these procedures unessential.
"Was taking my blood pressure and pulse essential?" I ask bluntly. "Those procedures seem to me to be identical in nature to the lung function test, as well as you listening to my lungs with your stethoscope."
"I don't want to break the law."
At this point the words of Charles Dickens came to mind: "The law is an ass!" I then say, in so many words, "What does Governor Doug Ducey know about medicine? He's a stupid politician. You, my doctor, who specializes in respiratory illnesses, is a far better expert on the subject. You more than anyone should know when it is safe to give this test, and to whom. That you are allowing a politician tell you how to treat your patients is to my mind literally unethical."
I then added, "Why did you even have me bother coming in?"
"I won't bill you."
"What I want is for you to give me the test. I am the patient, I know my condition. I am not going to make everyone in the office sick by doing this, and you know that."
"Well, I need to find someone willing to do it–"
"Your assistant just told me he would, if you said it was okay."
"Well, we will have to put you in a room we don't normally use, to isolate you."
"Sure. Find one."
Eventually they did the test, my results were good, good enough in fact that the doctor suggested we could begin reducing my inhaler dosages. Hooray!
That I had to fight with him to get normal and required treatment however was very discouraging. Even more appalling is that the treatment required him, his assistant, and myself to defy a state-wide edict, essentially making us criminals.
You want to generate an utter contempt for the rule of law? Right now our ruling class is doing a marvelous job!
In a free society, it is the doctor and patient who decides. (Remember the liberal canon about being "pro-choice"?) More important, they know best, as they are closest to the problem. To allow a top-down blunt ruling by a state-wide official to block doctors from doing basic medical procedures is absurd, foolish, and certainly counter-productive.
It is also hostile to the basic tenets of freedom, which require all such decisions to come from the individuals involved, not some puffed up politician.
More Americans have got to start pushing back against these nonsensical edicts, as I did. We have got to start taking personal responsibility and demand the right to be free individuals, capable of making our own choices, freely.
We have got to stop being so afraid, of this relatively minor new virus, of politicians, and most of all, of our own shadow.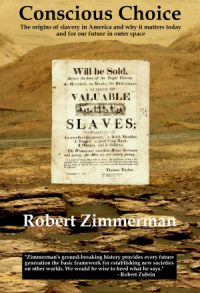 Now available in hardback and paperback as well as ebook!
From the press release: In this ground-breaking new history of early America, historian Robert Zimmerman not only exposes the lie behind The New York Times 1619 Project that falsely claims slavery is central to the history of the United States, he also provides profound lessons about the nature of human societies, lessons important for Americans today as well as for all future settlers on Mars and elsewhere in space.
Conscious Choice: The origins of slavery in America and why it matters today and for our future in outer space
, is a riveting page-turning story that documents how slavery slowly became pervasive in the southern British colonies of North America, colonies founded by a people and culture that not only did not allow slavery but in every way were hostile to the practice.
Conscious Choice
does more however. In telling the tragic history of the Virginia colony and the rise of slavery there, Zimmerman lays out the proper path for creating healthy societies in places like the Moon and Mars.
"Zimmerman's ground-breaking history provides every future generation the basic framework for establishing new societies on other worlds. We would be wise to heed what he says." —Robert Zubrin, founder of founder of the Mars Society.
All editions are available at Amazon, Barnes & Noble, and all book vendors, with the ebook priced at $5.99 before discount. The ebook can also be purchased direct from my ebook publisher, ebookit, in which case you don't support the big tech companies and I get a bigger cut much sooner.
Autographed printed copies are also available at discount directly from me (hardback $24.95; paperback $14.95; Shipping cost for either: $5.00). Just email me at zimmerman @ nasw dot org.