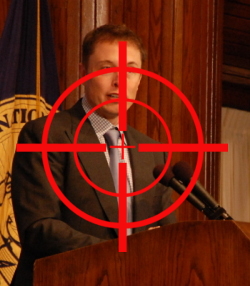 Musk now a target of the leftist press.
They're coming for you next: Elon Musk's effort to buy purchase of Twitter to end the ability of its leftist management and employees to censor opinions they don't like has apparently activated this same blacklisting effort against Musk and his companies across many media fronts, based on two stories yesterday.
First we have this story in a local Florida newspaper, describing a handful of letters of complaint to the Florida Department of Environmental Protection (FDEP) about SpaceX's proposal to build an industrial wastewater treatment facility on its leased facility on Cape Canaveral.
The draft proposal was first filed back on February 2, 2022. It requests permission from the Florida Department of Environmental Protection (FDEP) to create a facility that would "discharge up to 3,000 gallons per day of non-process potable water to a stormwater management system that, under specific conditions, discharges to a ditch leading to the Indian River Lagoon."

After notice of the draft proposal was published in Hometown News Brevard, it drew the attention of Titusville residents.
The article then proceeds to give us a detailed description of each complaint letter sent to FDEP, all five. Based on the similar language in all the letters, they appear to be part of a quickly organized campaign by local environmentalists to block any expansion of SpaceX's Florida operations. Because of these letters, FDEP has been forced to hold a public meeting today to discuss SpaceX's proposal.
Next, we have this story from Business Insider: 'Scammed by Starlink': Customers are frustrated with price hikes for uplink kits they still haven't received months after paying $100 deposits.
The article's author dug up four individuals who are unhappy with the recent Starlink price increases, lack of service, and their claims that they have been unable to get their deposits refunded. While these complaints could very well be true, that the journalist made no effort to find any contrary opinions about Starlink and SpaceX is quite telling.
It is certainly justified in both cases to legitimately question the operations of both SpaceX and Starlink. The nature of the articles, however, focusing entirely and solely on a tiny smattering of individuals who have complaints about these companies, without getting any other perspectives, suggests both stories are not really interested in reporting news, but instead are aimed at attacking Musk. Moreover, in the last few weeks similar such anti-Musk hit-jobs have become to appear regularly in the press.
Musk should expect more such treatment. That he is daring to question the ability of the leftist press to blacklist their opponents at Twitter means he has been declared its enemy, and thus every reporter and editor in every mainstream outlet is going to be on the lookout for any story they can publish to slander and damage him.
Twitter's employees and management have made it clear: Dissent of their position must not be allowed. The rest of the leftist press is now apparently beginning to team up to help Twitter to defend this fascist position.
The result of this anti-Musk media effort is likely going to impact the effort of SpaceX. Expect further delays blocking its ability to launch Starship and Superheavy.
Readers!
In order to remain completely independent and honest in my writing, I accept no sponsorships from big space companies or any political organizations. Nor do I depend on ads.
Instead, I rely entirely on the generosity of readers to keep Behind the Black running. You can either make a one time donation for whatever amount you wish, or you sign up for a monthly subscription ranging from $2 to $15 through Paypal, or $3 to $50 through Patreon, or any amount through Zelle.
The best method to donate or subscribe is by using Zelle through your internet bank account, since it charges no fees to you or I. You will need to give my name and email address (found at the bottom of the "About" page). What you donate is what I get.
To use Patreon, go to my website there and pick one of five monthly subscription amounts, or by making a one-time donation.

For PayPal click one of the following buttons:

If these electronic payment methods don't work for you, you can support Behind The Black directly by sending your donation by check, payable to Robert Zimmerman, to


Behind The Black
c/o Robert Zimmerman
P.O.Box 1262
Cortaro, AZ 85652