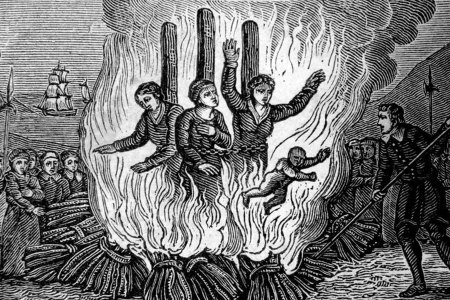 Reporting daily the modern witch hunt against freedom and
independent thought.
It is just about six months since I decided to do a daily column entitled "Today's Blacklisted American." In that time I have documented more than 120 examples where one group of Americans thought it okay and proper to destroy the livelihood and freedom of other Americans, all because the latter said something the former did not like.
The link will take you to the full list of columns since mid-January. After six months I think it is time to assess what these columns have revealed. And that revelation is quite ugly.

First, the bulk of the blacklisting has almost all been against anyone who criticizes the left, in any way. As should be expected, this includes attacks on anyone who expresses any doubts about Critical Race Theory and its racist agenda, anyone who criticizes the Marxist Black Lives Matter movement, and anyone who raises any questions at all about the trustworthiness of the Biden victory in 2020.
The blackballing however has not simply been focused at those who criticize the left. It has also gone after conservatives, simply for being conservative. Conservative conferences and organizations have been forced to cancel events or disband entirely because of pressure exerted against them by Democrats and leftist activists. Conservative leaning news outlets like the Epoch Times, the Spectator, and PragerU have been cancelled and censored by tech companies like YouTube, FaceBook, TikTok, and Spotify, simply for leaning conservative. Reporters like Andy Ngo, who simply attempts to report honestly the violent activities of Antifa and BLM, have been attacked physically and blackballed from social media outlets for daring to do their jobs.
Nor have the attacks on conservatives been limited to organizations or news outlets. Many private individuals, from high school students and teachers to airline pilots, have found themselves expelled or fired, simply because they happened at one time or another expressed publicly an opinion some leftist or Democrat did not like.
For the modern left, freedom of speech only applies to them. All others must shut up, or be destroyed. You are simply not allowed to question their actions, tactics, or policies.
The blackballing by the left however has not simply been limited to political expression. For example, people have been blacklisted, not because they were conservative or advocated any specific political agenda that the Democrats disagreed with, but merely because they were associated in some manner with the Trump administration. Washington think tanks have blackballed all past Trump employees. Lawyers who simply represented Trump have been ostracized and sometimes fired from their jobs for doing so. Even a well known sign language interpreter was blackballed by the Biden administration, simply because she had also accepted work from the Trump administration.
Nor have the left's attacks been limited to destroying living people. In the past six months there have been numerous examples of leftists in the Democratic Party, academia, the entertainment industry, and the business community going after basic American history, attempting to smear it and have it cancelled so that no one can learn anything about it. For example, Democrats in Chicago, San Francisco, Oklahoma, and New York pushed hard to get statues of Lincoln, Washington, and other important American historical figures removed from public view. Entertainment organizations from small theater groups to corporate giants like Disney moved to ban classics like Cinderella, Peter Pan, Dumbo, and Dr. Seuss, mostly because they were either too "white" or because someone had made a wild and very slanderous and unsubstantiated accusation of "racism" against them.
Ironically, much of the blacklisting of real people has been racial, but not against minorities but against whites and men, merely because of their race and sex. A campaign at universities nationwide has attempted to make whites second class citizens, required always to go to the back of the bus, to be segregated from general society, and to be denied equal treatment before the law. Colleges have set up special classes that exclude whites, services that only serve minorities, and private extra facilities for minorities only.
Segregation is back, and it is now very popular in academia. This time however the segregation and discrimination is aimed at favoring blacks and minorities, while limiting opportunities for whites and men. And all based on race, ethnicity, or sex, the very bigotry the entire civil rights movement spent decades fighting.
The intolerance coming from the left that I have documented in the past six months and summarized above has been widespread and relentless. As a group, the Democratic Party and its minions in academia, corporate boardrooms, and the entertainment industry no longer tolerate any dissent. You most conform, or they will team up to destroy you.
The most disturbing aspect of their intolerance, however, has not been the blackballing itself, but the unmitigated hatred that fuels it. The attacks on conservatives and American history by the left no longer have any rational or intellectual basis. They don't even try to come up with such arguments. They hate, and that hate justifies the destruction and cancelling.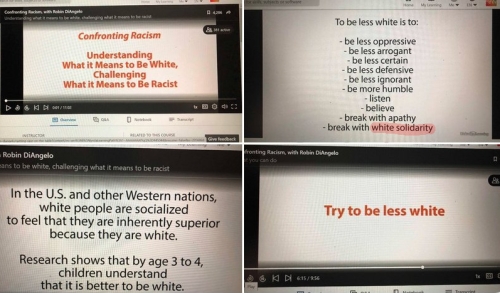 Examples of Critical Race Policy materials that
were being used at Coca-Cola
If you don't believe me then take a look at the slides to the right, taken from the Critical Race Policy training sessions used at Coca-Cola. Though very typical of critical race theory materials seen in classrooms and corporate offices nationwide in the past few years, the materials provide no rational reason for singling out all whites like this and to stain them as evil. Only hatred and bigotry does such things.
Yet that hatred and bigotry is now typical of what you find among leftists and their supporters. Much of the blacklisting has occurred not because some boss at the top ordered it, but because companies and colleges and organizations are finding themselves swamped with employees steeped in this bigotry and hate, who want blood and will not stop screaming until they get it. Hate has become symptomatic of an entire large segment of our population. Oppose or disagree with them and you are evil, and must be destroyed.
And these haters now have the power and will to do it. Do not be surprised if the oppression in the next six months is worse than the last. The resistance to these bullies and tyrants has generally been weak and unfocused. They remain in power, and they intend to do everything they can to maintain that power. As the opposition to them ramps up, so will their authoritarian instincts.
It is going to get very ugly in the coming year. Be prepared. The worst is yet to come.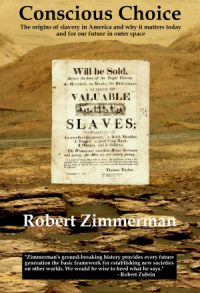 Now available in hardback and paperback as well as ebook!
From the press release: In this ground-breaking new history of early America, historian Robert Zimmerman not only exposes the lie behind The New York Times 1619 Project that falsely claims slavery is central to the history of the United States, he also provides profound lessons about the nature of human societies, lessons important for Americans today as well as for all future settlers on Mars and elsewhere in space.
Conscious Choice: The origins of slavery in America and why it matters today and for our future in outer space
, is a riveting page-turning story that documents how slavery slowly became pervasive in the southern British colonies of North America, colonies founded by a people and culture that not only did not allow slavery but in every way were hostile to the practice.
Conscious Choice
does more however. In telling the tragic history of the Virginia colony and the rise of slavery there, Zimmerman lays out the proper path for creating healthy societies in places like the Moon and Mars.
"Zimmerman's ground-breaking history provides every future generation the basic framework for establishing new societies on other worlds. We would be wise to heed what he says." —Robert Zubrin, founder of founder of the Mars Society.
All editions are available at Amazon, Barnes & Noble, and all book vendors, with the ebook priced at $5.99 before discount. All editions can also be purchased direct from the ebook publisher, ebookit, in which case you don't support the big tech companies and the author gets a bigger cut much sooner.
Autographed printed copies are also available at discount directly from me (hardback $24.95; paperback $14.95; Shipping cost for either: $5.00). Just email me at zimmerman @ nasw dot org.