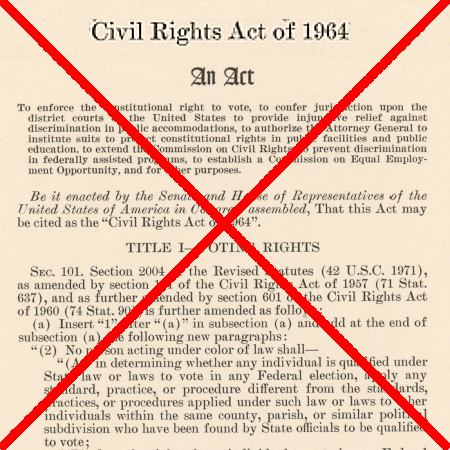 The Civil Rights Act of 1964: repealed by Cornell
Continuing my weeklong series documenting the modern bigotry of our culture, today's bigot is Cornell University, who recently offered a segregated rock-climbing course that whites were forbidden to attend. From the course's original description:
This class is for people who identify as Black, Indigenous, Latinx, Asian, or other people of color.
Moreover, that original course description made it very clear that the course was limited to such students only.
The original description gave no indication that BIPOC [Black, Indigenous People, Others of Color] students were the "special focus" of the course, instead of the only eligible category for enrollment. While [that original version] said students "will also talk about BIPOC individuals and groups in rock climbing," that sentence was immediately followed by the restriction to "people who identify as" BIPOC.
Such a class would be illegal under both federal and New York state law.

New York has a "Human Rights Law" that bans "non-sectarian educational institutions" (which includes Cornell) from denying services to students on the basis of race and color, among other categories. The New York Attorney General's Office flatly says such bans are "illegal."

This state law supplements the federal Title VI law, which bans the exclusion of any person from federally funded programs "on the ground of" race or color.
The segregated course was first revealed and discussed on Reddit four months ago, and remained unchanged for three weeks, until Campus Reform contacted the university as part of a planned report. Cornell officials then immediately revised the course description to imply that whites could attend also, though the focus of the course remains racist in favoring the teaching of minorities over whites.
You might argue that this is an isolated case and it is unfair to accuse Cornell University of bigotry based on this one example. The problem with that argument is that the university's intolerance of anyone opposing modern leftist dogma and its identity politics is not limited to this one example, and instead is quite extensive. First, as noted in the Reddit discussion, the university still offers courses restricted only to women.
Second, shortly after the election of Trump the president of Cornell's Republican club was physically attacked, an attack that was the culmination of a campaign of harassment and threats.
Then there was the creation by students of "safety teams" to discourage others from attending a scheduled speech by a Cornell law professor advocating free speech on college campuses.
Later, when that professor criticized the Marxist and racist agenda of the Black Lives Matter movement, several student organizations at the university moved to get him fired.
At this same time a petition supporting the goals of the Black Lives Matter movement, with many bigoted demands, was being circulated and endorsed widely on campus by students, teachers, and faculty. That petition included the demand that the university "support and encourage departments to make cluster hires of Black and other faculty of color," that it "encourage and support the recruiting of graduate students of color in clusters and cohorts in departments," and that it "abolish colorblind recruitment policies and practices in partner/spousal hiring" in favor of hiring minorities first and foremost.
Then there was the 2019 offering by the university of six week seminar course that questioned the very use of "reason" or "rationality" in intellectual thought.
The goal of the entire seminar is to demonstrate that knowledge, and truth, is always tied to power, which means that all knowledge, and truth, is entirely subjective, and if discovered by some ethnic groups in power (whites or Christians or Jews), other ethnic groups out of power have the right, the obligation, to reject that knowledge, and truth, in order to establish their own power base.
Not surprisingly, the teacher of this course is an expert and supporter of Critical Race Theory, and has said publicly that the "spike in gun sales after Barack Obama's re-election (the "end of 'Anglo Saxon' domination over the United States") was a signal that white people were arming themselves for a race war against Hispanics."
The sad part of this story is that Cornell is not an outlier, but very typical of most major universities today. If you are conservative you face outright oppression. If you are white you are considered the lowest of the low, and must bow to the new bigoted model that places minorities at the top of the racial pyramid, pure and above any criticism at all, merely because of their skin color.
So, what college is your kid going to? And that future recent graduate you are thinking of hiring: What school did he or she attend? What did they learn?
These are questions we who believe in a colorblind society that does not judge people by their race must be asking. And we need ask them often and bluntly, and not be afraid to respond appropriately to the answers we get.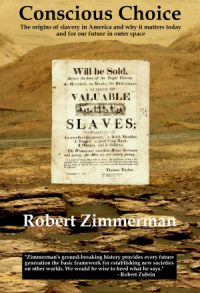 Now available in hardback and paperback as well as ebook!
From the press release: In this ground-breaking new history of early America, historian Robert Zimmerman not only exposes the lie behind The New York Times 1619 Project that falsely claims slavery is central to the history of the United States, he also provides profound lessons about the nature of human societies, lessons important for Americans today as well as for all future settlers on Mars and elsewhere in space.
Conscious Choice: The origins of slavery in America and why it matters today and for our future in outer space
, is a riveting page-turning story that documents how slavery slowly became pervasive in the southern British colonies of North America, colonies founded by a people and culture that not only did not allow slavery but in every way were hostile to the practice.
Conscious Choice
does more however. In telling the tragic history of the Virginia colony and the rise of slavery there, Zimmerman lays out the proper path for creating healthy societies in places like the Moon and Mars.
"Zimmerman's ground-breaking history provides every future generation the basic framework for establishing new societies on other worlds. We would be wise to heed what he says." —Robert Zubrin, founder of founder of the Mars Society.
All editions are available at Amazon, Barnes & Noble, and all book vendors, with the ebook priced at $5.99 before discount. The ebook can also be purchased direct from my ebook publisher, ebookit, in which case you don't support the big tech companies and I get a bigger cut much sooner.
Autographed printed copies are also available at discount directly from me (hardback $24.95; paperback $14.95; Shipping cost for either: $5.00). Just email me at zimmerman @ nasw dot org.