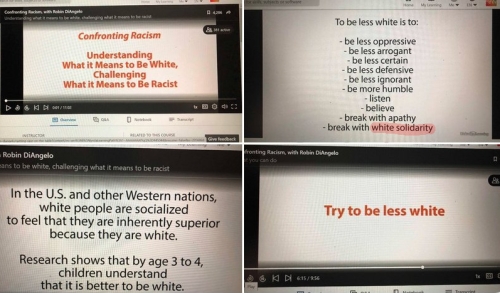 Examples of the bigoted educational material
being pushed by Coca-Cola
This week is going to be racism week for my daily posts on blacklisting in today's fascist culture. Each day I will highlight another example of modern racism by companies and governments against innocent people simply because they were born with the wrong skin color. And that skin color will be white, which is now the one kind of racism that the left now honors and demands, from everyone.
Our first bigot this week is the multi-national soda company Coca-Cola. Most of the news this past week or so has been focused on this company's mindless decision to condemn Georgia's new election law, based on Democratic Party lies and a refusal to even read the law.
However, let's take a closer look at Coke's bigoted policies, which are expressly designed to create a hostile work environment for anyone who happens to be white, solely based not on their performance but their skin color. The image above shows screen captures of just four slides from a Coke-Cola critical race theory training class, provided by a whistle-blower but later confirmed by the company as accurate.

Blaze Public Relations' Chris Pandolfo obtained a statement from Coca-Cola that concedes its employees were told to take the seminar in question.

"The video circulating on social media is from a publicly available LinkedIn Learning series and is not a focus of our company's curriculum," Coca-Cola responded. "Our Better Together global learning curriculum is part of a learning plan to help build an inclusive workplace. It is comprised of a number of short vignettes, each a few minutes long. The training includes access to LinkedIn Learning on a variety of topics, including on diversity, equity, and inclusion. We will continue to refine this curriculum."

It is important to note this wording concedes it happened. Furthermore, it is not "inclusive" to attack particular individuals' racial background; that is, by definition, "exclusive." [emphasis mne]
Also, saying that these slide show is "not a focus" is pr blather for admitting that this program is part of their curriculum.
Note that most of the recommendations in the top right slide are actually wise suggestions, for all races. That the last [highlighted by me] recommendation in that slide however implies that only whites need to consider these actions proves the bigoted nature of the entire course, as well as Coca-Cola's company policy. Minorities can be as bigoted and as arrogant and as defensive and as ignorant as they want, because as minorities they are immune from any criticism.
By teaching this racist policy Coke is breaking every word of the 1964 Civil Rights Act, and should be sued hard and frequently for its bigotry.
Nor is this all however. Not only is Coca-Cola training its employees to hate whites, it is demanding that every law firm it hires favor minorities in hiring, regardless of skills, talent, or training.
The Atlanta-based beverage giant's general counsel, a recent hire from the top ranks of Ford, disclosed the changes in a letter Thursday to law firms the company uses. "Quite simply, we are no longer interested in discussing motivations, programs, or excuses for little to no progress — it's the results that we are demanding and will measure going forward," Bradley Gayton wrote. And he told The Atlanta Journal-Constitution that he hopes other major companies make similar moves to "change the trajectory" of diversity in the field.

…Coke said it will require quarterly reporting about the makeup of legal teams that do work for it and self identify as American Indian, Alaska Native, Asian, Black, women, Hispanic/Latinx, LGBTQ, Native Hawaiian, Pacific Islander or persons with disabilities. For those working on new matters for Coke, "at least 30 percent of each of billed associate and partner time will be from diverse attorneys, and of such amounts at least half will be from Black attorneys."

It said the percentages, which are roughly equal to those of the U.S. population overall, will be adjusted over time to eventually hit at least 50 percent of billed time coming from diverse attorneys, with half from Black attorneys.

Firms that fail to meet the targets will be docked 30 percent of their fees, and those who continue to come up short may no longer be considered for Coke work.
In other words, Coke is demanding that all whites move to the back of the bus.
The reason the Civil Rights Act was passed was to end exactly this kind of favoritism, then practiced against blacks and minorities. The law however was not written just to protect those minorities, but to specifically outlaw any favoritism to any race or ethnicity. The measure for hiring was to be merit, and merit only.
Coke and the other examples I will give throughout this week are playing on very dangerous ground, and appear oblivious to the danger. Do you want a race war? You leftists are going to get it if you keep demonizing whites for no other reason than they are white. And since whites are the majority such a war will be very bad for the minorities you claim you support and want to help.
It will also be terrible for the whites, because the last thing we should be teaching anyone — blacks or whites — is to hate others because of their skin color. It is not only illegal, it is morally wrong, and goes against every principle of western civilization.
And yet, that is what Coke now stands for, a bigoted society that treats whites as second class citizens.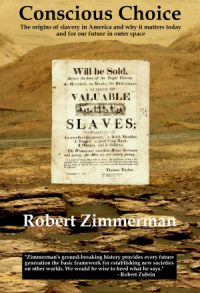 Now available in hardback and paperback as well as ebook!
From the press release: In this ground-breaking new history of early America, historian Robert Zimmerman not only exposes the lie behind The New York Times 1619 Project that falsely claims slavery is central to the history of the United States, he also provides profound lessons about the nature of human societies, lessons important for Americans today as well as for all future settlers on Mars and elsewhere in space.
Conscious Choice: The origins of slavery in America and why it matters today and for our future in outer space
, is a riveting page-turning story that documents how slavery slowly became pervasive in the southern British colonies of North America, colonies founded by a people and culture that not only did not allow slavery but in every way were hostile to the practice.
Conscious Choice
does more however. In telling the tragic history of the Virginia colony and the rise of slavery there, Zimmerman lays out the proper path for creating healthy societies in places like the Moon and Mars.
"Zimmerman's ground-breaking history provides every future generation the basic framework for establishing new societies on other worlds. We would be wise to heed what he says." —Robert Zubrin, founder of founder of the Mars Society.
All editions are available at Amazon, Barnes & Noble, and all book vendors, with the ebook priced at $5.99 before discount. The ebook can also be purchased direct from my ebook publisher, ebookit, in which case you don't support the big tech companies and I get a bigger cut much sooner.
Autographed printed copies are also available at discount directly from me (hardback $24.95; paperback $14.95; Shipping cost for either: $5.00). Just email me at zimmerman @ nasw dot org.